McDonald's Pulls Salads From 3,000 Restaurants After Parasite Outbreak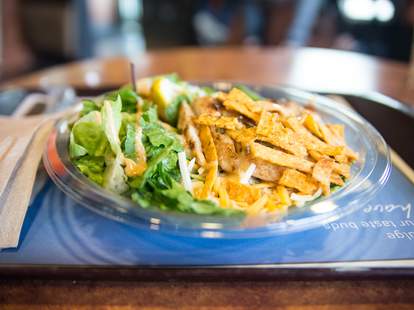 McDonald's has yanked its salad offerings from 3,000 locations across the Midwest after a food poisoning episode sickened scores of people in Illinois and Iowa. Health officials in both states are investigating the incident, which has seen 90 people in Illinois diagnosed with an intestinal illness called Cyclosporiasis since mid-May, while a further 15 people in Iowa have fallen victim to the illness since late June or early July.
McDonald's has curtailed its salad offerings at contaminated locations, explaining the directive in a statement on Friday: "Out of an abundance of caution, we decided to voluntarily stop selling salads at impacted restaurants until we can switch to another lettuce blend supplier. We are in the process of removing existing salad blend from identified restaurants and distribution centers."
Per the Centers for Disease Control & Prevention (CDC), Cyclosporiasis is an intestinal illness that "causes watery diarrhea, with frequent, sometimes explosive, bowel movements. Other common symptoms include loss of appetite, weight loss, stomach cramps/pain, bloating, increased gas, nausea, and fatigue. Vomiting, body aches, headache, fever, and other flu-like symptoms may be noted. Some people who are infected with Cyclospora do not have any symptoms."
Symptoms can sometimes take a week to appear and are treated with antibiotics, according to the CDC.
Although a source of the scourge hasn't been traced back to a single McDonald's location, the Illinois Department of Public Health notes that many victims reported eating a McDonald's salad the day symptoms were reported.
"Approximately one-fourth of Illinois cases reported eating salads from McDonald's in the days before they became ill," a news release from the agency said.
In the meantime, take solace in McDonald's year-long french fry giveaway and forget about salads.
Sign up here for our daily Thrillist email and subscribe here for our YouTube channel to get your fix of the best in food/drink/fun.
 
Sam Blum is a News Staff Writer for Thrillist. He's also a martial arts and music nerd who appreciates a fine sandwich and cute dogs. Find his clips in The Guardian, Rolling Stone, The A.V. Club and Esquire. He's on Twitter @Blumnessmonster.