McDonald's Released Its Sausage & Egg McMuffin Recipe So You Can Make it at Home
Everything you need to know to make this fast food breakfast staple at home.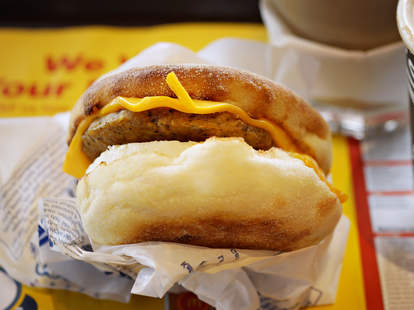 McDonald's breakfast menu is a unanimous fast food favorite among anyone with taste buds. But in response to the current COVID-19 crisis, the revered fast food chain has temporarily put the kibosh on your all-day McMuffin habit. Not without a consolation, though.  
The restaurant's UK arm shared an at-home recipe for its sausage & egg McMuffin with the Mirror, so customers can recreate the breakfast classic themselves. And all it takes is five ingredients: an English muffin, sausage patty, two eggs, and a slice of American cheese.
You'll wanna start by toasting the English muffin to a perfect golden brown. Season up the sausage with salt and pepper, before cooking six to seven minutes on a grill or stovetop -- though if the package comes with its own specific instructions, you should probably go that route. The recipe then calls for you to "brush the inside of a metal ring with olive oil" and place in your frying pan, pour in enough water to cover the base, and then bring it to a boil. Once that's done, crack your egg into the ring, cover, and cook for two to three minutes.
To assemble, you'll just toss together the cooked sausage and egg on your English muffin and finalize with a slice of American cheese. But because breakfast isn't complete without some form of potatoes, you'll probably wanna whip up some hash browns on the side.
Micky D's has got you covered on that front too: grate the potato into your bowl, mix in an egg, salt, and pepper, before heating "a glug" of oil in a pan. You'll then spoon in the potato mixture, flatten, and cook until golden.
Now if someone over there could just leak the McGriddle recipe, we'd be set for the rest of quarantine.
Sign up here for our daily Thrillist email and subscribe here for our YouTube channel to get your fix of the best in food/drink/fun.
Megan Schaltegger is a staff writer at Thrillist.