The New McDonald's Holiday McFlurry Is Its First New McFlurry in 7 Years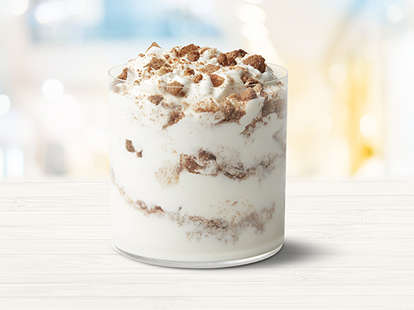 Courtesy of McDonald's
Courtesy of McDonald's
Debates about how early in the year holiday music can be played are reasonable. Some of you start playing it in October, and that's absurd. Nonetheless, we can all agree that it's never too early for the arrival of a holiday drink. Starbucks has got its drink out there. Rogue Ale's Santa Private Reserve is within arm's reach. And dad already reeks of egg nog.
McDonald's, too, has a holiday drink for you. It just announced its first new seasonal McFlurry in seven years: The Snickerdoodle McFlurry. Though, it doesn't come in a confusing "Merry Coffee" cup. Inside the pretty standard McDonald's cup is vanilla soft serve with crunchy crumbles of cinnamon cookies and a Snickerdoodle topping.
The new McFlurry be available everywhere throughout the holidays, except, to start, you're only going to be able to grab one through UberEats. When you order through the delivery service, you'll get to preview the new McFlurry from November 11-17. Outside that Uber preview period, you'll have to wait until late November when the Snickerdoodle McFlurry hits Golden Arches locations across the country for just a wee bit. It'll give you something to do while you wait for the return of the Shamrock Shake.
Sign up here for our daily Thrillist email and subscribe here for our YouTube channel to get your fix of the best in food/drink/fun.