Man Claims He Found 3 Bags of Weed in His McDonald's Sweet Tea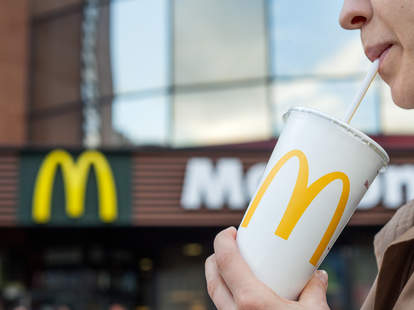 Earlier this week, 24-year-old Charleston resident Parrish Brown hit up his local McDonald's to give into a sweet tea craving. And while he included a special request with the order (extra lemon), the chain delivered something... else: a cup full of weed. 
Brown claims he picked up the drink, drained it while at work, and became super high. After allegedly feeling said effects, he opened the lid to find three bags of marijuana. Per his account, the bags were punctured by his straw. According to Hilton Head-based newspaper the The Island Packet, who spoke with Brown following the incident, he had never experimented with weed before and didn't recognize the flavor. So he just kept on guzzling the tea, despite acknowledging that it tasted off. Alrighty then.
Brown did, however, realize something was awry after he admittedly became "high as a kite." His dad quickly advised him to call 911, but unsurprisingly (sorry, it's true) they didn't take his concern all that seriously. Maybe because it's pretty difficult the get high from consuming raw marijuana. It's just not effective when raw. 
"I kept being like 'I swear, there is weed in my sweet tea!'" he told the outlet. "The officer asked me why I drank it and I was like, 'Well, I was thirsty!'" Seems smart. His 10-piece Chicken McNuggets and double cheeseburger were drug-free though.
h/t The Takeout
Sign up here for our daily Thrillist email and subscribe here for our YouTube channel to get your fix of the best in food/drink/fun.
Megan Schaltegger is a staff writer at Thrillist. Follow her @MegSchaltegger.