McDonald's Is Cryptically Teasing a 'Big Announcement' on January 26th
McDonald's is gearing up for a "big announcement" on January 26th. Unfortunately, that's about all the fast food giant said in a strange, cryptic message stitched onto napkins that were sent to reporters in recent days.
Take a look for yourself: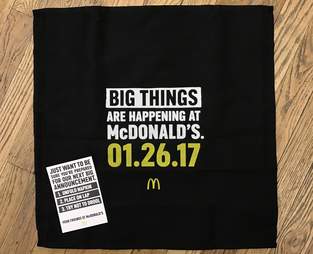 Tony Merevick/Thrillist
"Big things are happening at McDonald's," the company stated on the aforementioned napkin (shown above), followed by the date of the announcement, "01.26.17." A card accompanying the napkin provides some additional information, although not much.
As if that weren't maddening enough, the company also posted a similar tease on social media on Tuesday, looking down at the date spelled out in what appears to be food (fries? burgers?):
Your guess is as good as ours at this point.
Of course, it's certainly no secret that McDonald's is itching to introduce exciting menu items to lure you over to your local golden arches, so there are plenty of potential guesses. Specifically, the chain has introduced several new offerings via small test markets, such as a Sriracha Big Mac, fried chicken breakfast sandwiches, two new Big Mac sizes, and even all-you-can-eat fries over the last year or so. In most of these cases McDonald's has said there's a chance it'll unleash the new items nationwide, depending on how much people like them. Perhaps that's exactly what it plans to do on the 26th.
Last November, McDonald's announced it would release the new Big Mac sizes -- the Grand Mac and the Mac Jr. -- nationwide sometime in early 2017, which lines up perfectly with a January 26th announcement, right? Shaking up the classic cheeseburger would also make some sense, if a recent report that suggest a whopping 80% of millennials have never had a Big Mac is to be believed. Yes, the clues seem to point to the Big Mac, at least until you start to wonder why McDonald's would so cryptically tease something it has already announced and widely publicized. ¯\_(ツ)_/¯.
So far, at least one person replied to McDonald's tweet guessing the mysterious announcement involves all-you-can-eat fries for dine-in customers. This, too, makes sense if you assume the date is spelled out with fries in the tweet along with the linen napkin McDonald's sent to reporters, which is something you might use in a dine-in restaurant, although this is hardly strong evidence. Oh, and who wouldn't be excited about unlimited fries?
Others are predicting things like delivery service, free burgers, and the return of old menu items like Mighty Wings. Have any guesses? It's probably worth noting that January 26th is the same day Taco Bell will introduce its crazy fried chicken shell tacos across the country. Coincidence? Probably not.
We reached out to a McDonald's spokesperson to see if they'd tell us anything, but have yet to hear back as of Tuesday afternoon.
Sign up here for our daily Thrillist email, and get your fix of the best in food/drink/fun.
Tony Merevick is Cities News Editor at Thrillist and wonders how many people will order a Grand Mac instead of just two Big Macs, like you've always been able to do. Send news tips to news@thrillist.com and follow him on Twitter @tonymerevick.