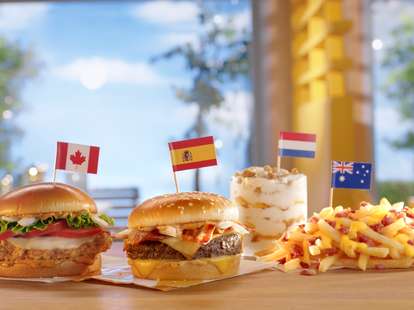 If you've spent any time abroad, you've probably acquired at least a few foreign coins you never got around to spending. They're probably stashed in a junk drawer or hidden at the bottom of a suitcase, likely never to go to use. Well, you might want to fish them out this week, because McDonald's is offering up any of the items on its new "Worldwide Favorites" menu for any amount of foreign currency.
To encourage people to come out and try the new international items its added to the menu, Mickey D's is hosting the McDonald's International Currency Exchange this Thursday, June 6 at locations nationwide. From 2-5pm (local time), you can hand over any denomination of foreign currency in exchange for your choice of one of the four items on the chain's new "Worldwide Favorites" menu: the Grand McExtreme Bacon Burger (from Spain), Stroopwafel McFlurry (from the Netherlands), Tomato Mozzarella Chicken Sandwich (from Canada), or Cheesy Bacon Fries (from Australia).
Have a Canadian penny lying around? Exchange it for a big ol' burger. A five cent Euro coin? That's enough for lunch. You're limited to one item per customer, but that's still a great deal. In fact, if you can't scrounge up any foreign money in the next few days, it may be worth taking a dollar to a currency exchange.
If only the actual exchange rate in foreign countries was this generous.

Sign up here for our daily Thrillist email and subscribe here for our YouTube channel to get your fix of the best in food/drink/fun.