McDonald's New $6 Value Meals Even Come With Dessert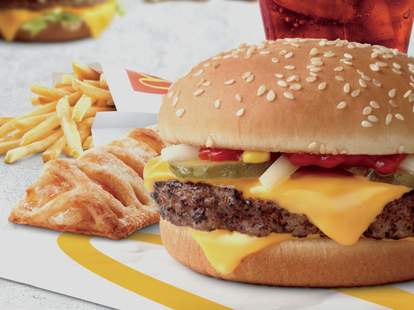 McDonald's isn't terribly expensive (in fact, if you're this "gold-digging" dog, it's free), but every dollar you save on a burger is a dollar you can spend on one of those confusingly delicious apple pies. We recommend being responsible with your money and doing that. Plus, you can now save money on a burger and get an apple pie thrown in -- saved money you can put toward still more apple pies. 
This bargain is McDonald's new $6 value meal. Starting on November 1, you'll be able to get the $6 Classic Meal Deal, which comes with your choice of four entrees: the Quarter Pounder with Cheese, the Big Mac, 10-piece Chicken McNuggets, or the Filet-O-Fish. On top of that entree, you'll also get a drink of any size, small fries, and an apple pie (or a seasonal pie, but why would you do that?).
Unfortunately, it'll only be available "for a limited time." Delish points out that currently a Quarter Pounder with cheese in New York is $5.49 alone and $9.19 for a meal -- so this is a steal, and you should probably take advantage of it while it lasts.
You'll be able to buy like four more apple pies.
Sign up here for our daily Thrillist email and subscribe here for our YouTube channel to get your fix of the best in food/drink/fun.