Oscars Edition of 'Mean Tweets' Points Out Samuel L. Jackson's Fart Face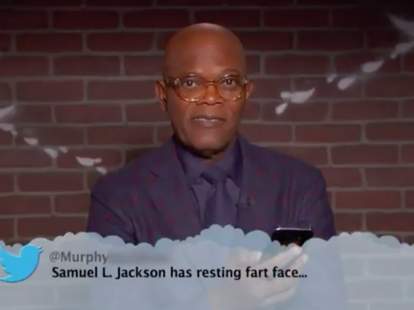 With Jimmy Kimmel hosting the Oscars, it shouldn't be surprising that he brought along some of his best bits from Jimmy Kimmel Live!, like his ongoing feud with Matt Damon. One of the night's highlights was an Oscars edition of "Mean Tweets," the Kimmel segment where he has guests read actual mean tweets about themselves.
Among the victims were swear-smith Samuel L. Jackson, La La Land's Emma Stone, Rogue One's Felicity Jones, Tilda Swinton, and many others. It was a great addition to the show, letting some of the night's stars prove they don't take themselves too seriously, like when Lin-Manuel Miranda laughs just as hard as you do after reading, "Lin-Manuel Miranda looks like he's getting a 1996 NBC sitcom with his haircut."
It rivals the best "Mean Tweets" segments (like when Barack Obama did it) with a couple real gems in there, like "Casey Affleck is the real life version of Billy Bob Thronton's character in Sling Blade" or the weirdly elaborate "Miles Teller has the face of a guy who would request 'Gangnam Style' at a wedding where he doesn't know either the bride or groom." Burn.
Watch the full segment above.
Sign up here for our daily Thrillist email, and get your fix of the best in food/drink/fun.
Dustin Nelson is a News Writer with Thrillist. He holds a Guinness World Record but has never met the fingernail lady. Follow him @dlukenelson.