Study: Men with Pets Are More Attractive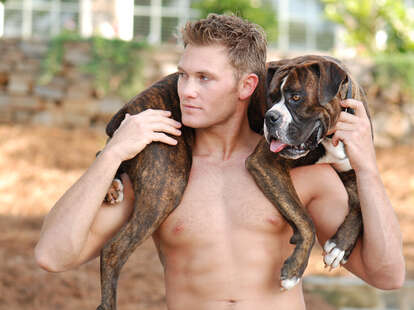 Shutterstock
Shutterstock
"I was just staring at his Cocker Spaniel" is a totally valid excuse for enjoying some male eye-candy. But cocker spaniels aside, if you're a woman who loves a man with a dog, no matter the breed, you're not alone. A new study suggests that plenty of women find dudes with pets to be more attractive.
Published by Anthrozoology journal Anthrozoös, the study looked into the impact of owning a pet on the dating lives of men and women. 477 male and 733 female Match.com users at least 20 years old took a survey of 21 questions regarding pets and dating, and the results varied greatly by gender. When women were asked whether a pet made a man more attractive, about 35% said "yes." But, when asked the same question, men appeared more nonchalant on the subject, with only about 26% of respondents reporting "yes." Given these answers, it's no surprise that more men than woman also reported using their pet to attract a date. Desperate much?
Another interesting result showed that 27% of women believe that a relationship would never work with a cat person. But, barely anyone reported disgust towards dog-people, which does make sense since cats are jerks.
Like every study, the results are not indisputable, so don't run to the nearest pet adoption center just yet, at least, not purely because of this study. The researchers did note some limitations, including the fact that the sample was only made up of heterosexual pet owners on Match.com. Which is a pretty specific bunch.
Either way, can't hurt to bring out Fido on your next date and see if she bites. Your date, not Fido. Hopefully Fido doesn't bite.
Sign up here for our daily Thrillist email, and get your fix of the best in food/drink/fun.
Kara King is a News Writer at Thrillist and a bulldog is her best friend. Send news tips to news@thrillist.com and follow her at @karatillie.