These Are the Most (and Least) Expensive Cities for Expats Right Now
It's fun to dream about living abroad and the cushy expat existence you might be able to carve out for yourself...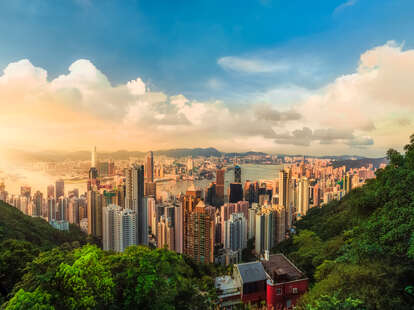 It's fun to dream about living abroad and the cushy expat existence you might be able to carve out for yourself. In reality, of course, it can be a lot tougher to swing it in a foreign country once you're there, especially if you underestimate how pricey it'll be. So, if the imminent election season (or, you know, whatever else might be getting you down) has you toying with the idea of ditching the US for a bit, here's some important new intel on the most (and least) expensive cities around the world for expats right now.
This new report on the priciest global cities comes from the consulting firm Mercer, which just unveiled its latest Cost of Living stats for 209 cities around the world. The 2019 rankings were determined by measuring the comparative costs of more than 200 items in each place, including everything from housing and transportation, to food, clothing, and entertainment. The survey, which is conducted annually, is typically considered the standard by which multinational companies and governments determine appropriate compensation for employees working abroad, according to a press release.
This year, Hong Kong topped the list as the priciest city to live in the world, with Tokyo taking the No. 2 spot, and Singapore coming in third. On the flip side, Tunis, Tunisia ranked as the least expensive in the world, followed by Tashkent, Uzbekistan, and Karachi, Pakistan. You can scope out the full ranking here, but here's what landed in the top 20 for most (and least) expensive cities, according to Mercer's 2019 report.
Most expensive cities for expats in 2019
20. Copenhagen, Denmark
19. Osaka, Japan
18. Los Angeles, US
17. Guangzhou, China
16. San Francisco, US
15. Tel Aviv, Israel
14. Victoria, Seychelles
13. Geneva, Switzerland
12. Bern, Switzerland
11. N'Djamena, Chad
10. Shenzhen, China
9. New York City, US
8. Beijing, China
7. Ashgabat, Turkmenistan
6. Shanghai, China
5. Zurich, Switzerland
4. Seoul, South Korea
3. Singapore, Singapore
2. Tokyo, Japan
1. Hong Kong, Hong Kong
Least expensive cities for expats in 2019
20. Gaborone, Botswana
19. Almaty, Kazakhstan
18. Nouakchott, Mauritania
17. Blantyre, Malawi
16. Sarajevo, Bosnia and Herzegovina
15. La Paz, Bolivia
14. Lusaka, Zambia
13. Yerevan, Armenia
12. Minsk, Belarus
11. Tegucigalpa, Honduras
10. Managua, Nicaragua
9. Skopje, Macedonia
8. Tbilisi, Georgia
7. Islamabad, Pakistan
6. Windhoek, Namibia
5. Banjul, Gambia
4. Bishkek, Kyrgyzstan
3. Karachi, Pakistan
2. Tashkent, Uzbekistan
1. Tunis, Tunisia
You'll notice Asia wins out as the most expensive continent, with eight cities ranking in the top 10. It's also worth noting that with the exception of New York and Ashgabat, every one of the top 10 most expensive cities in 2019 was also in the top 10 in 2018. Also, all 21 US cities ranked on the list jumped higher in the last year, on account of the strength of the US dollar, according to Mercer. Notably, San Francisco and Los Angeles climbed 12 and 17 places, respectively.
Of course, it's worth mentioning that the most expensive cities are also arguably more desirable compared to the least expensive (sorry, Islamabad). But if you're really scrambling to leave the States sometime soon, it's still good to know where your buck will stretch the furthest.
Then again, if you'd prefer to save some scratch without actually leaving the country, you certainly have plenty of options.
h/tBloomberg
Sign up here for our daily Thrillist email and subscribe here for our YouTube channel to get your fix of the best in food/drink/fun.