Here's What People Crave When Mercury's in Retrograde, According to DoorDash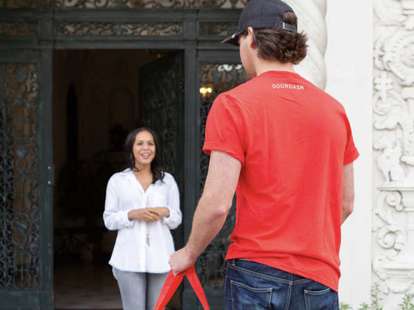 Because I'm a Scorpio, the only thing I'll be consuming while Mercury is in Retrograde is enemy flesh marinated in the blood of my former lovers, or so say the astrologists who insist vengeance is my sign's central mission. But the other, less murderous signs will still be ordering food through DoorDash, and the delivery service just announced that they've noticed some fascinating patterns of consumption during this fateful time.
"Many astrologers suggest people avoid making significant financial decisions, traveling, and accepting new job offers," the company said. "But there's one thing that's completely unavoidable: eating."
By the way, this period of time is significant to astrology believers because Mercury is the planet of communication and rational thinking, so, when it's Retrograde, the universe behaves kind of like the problematic relative causing chaos at Thanksgiving. DoorDash is suggesting that, based on research from the 2019 Mercury in Retrograde, people eat what's required to cope with them -- namely, comfort food.
Here's the breakdown:
Top Trending Items Ordered during Mercury in Retrograde:
1. Chocolate Chip Cookies (+173%)
2. Bacon Cheeseburgers (+84%)
3. Grilled Cheese (+77%)
4. Ice Cream (+73%)
5. Mac & Cheese (+15%)
Top Ordered Items During Mercury in Retrograde:
1. Fries
2. Chicken Nuggets
3. Quesadillas
4. Burrito
5. Cheeseburger
6. Chips & Queso
7. Wings
8. Milkshakes
9. Fried Rice
10. Pad Thai
We're not totally surprised that people turn to comfort food when there's chaos in the cosmos, but it was intriguing to see that DoorDash found consumption surges in particular areas of the country.
The States that Ordered the Most During Retrograde 2019:
1. Montana
2. Maryland
3. California
4. Ohio
5. Colorado
6. Utah
7. Virginia
8. Illinois
9. Texas
10. Arizona
Maybe try meditation, Montana? For all of y'all interested in learning whether or not Mercury is in Retrograde, you can go to the handy and straightforward ismercuryinretrograde.com.
Sign up here for our daily Thrillist email and subscribe here for our YouTube channel to get your fix of the best in food/drink/fun.