If you, like me, spent your formative years pretending you had a tail and trying to hold your breath underwater for as long as possible in hopes that you'd be inducted into a secret mermaid society, you are ecstatic that there is a new, live action Little Mermaid film out this summer. Halle Bailey's turn as Princess Ariel has not only brought joy to my heart but it has also inspired me to try to once again listen to the siren's song. Unfortunately, as an adult, if I try to swim out in the ocean, make friends with a fish, and hold my breath underwater for as long as possible, the best case scenario is that I get another pair of grippy socks. But, that's not the only way to delight in summertime mermaidcore fun.
There are plenty of places all over the world where you can feel like a mermaid, without having to make a lifelong commitment to swimming with the fishes. Below are ways to transform your summer vacation into your very own nautical fairy tale.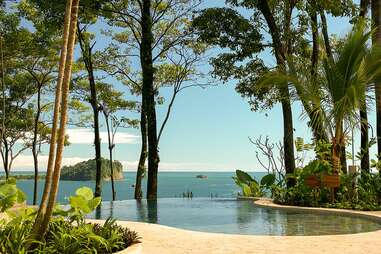 Hotels
The Mermaid Princess Room at The Fullerton
This Hong Kong hotel room is dedicated to the Mermaid theme, with a shell-shaped children's bed, a pearlescent and shell-esque king sized bed, scale wallpaper, and touches of soft pinks, purples, and blues that will make you feel like you're in King Neptune's palace.
The Pearl Rosemary Beach
Feel like you've washed up in an idyllic village in this Florida beachfront town, which is home to The Pearl, a luxurious seaside resort with all of the beachy touches that will make you feel as close to the underwater world as possible.
The Ritz Carlton Tenerife, Abama
While there's no way to live underwater full time, this oceanfront ultra pink property has not one but seven swimming pools on the property, meaning you can Aquamarine it up all day. Plus it's a Ritz property, meaning you won't have to use too much imagination to feel like a true Disney Princess.
Arenas del Mar Beachfront & Rainforest Resort
One of the most appealing aspects of being a mermaid is the idea that I'll never be too far from the sea. This resort boasts breathtaking views of the Costa Rican shoreline, nestled on the border of the rainforest right on the coast. With natural wood furniture, a turquoise tiled tub, and an abundance of pools, this feels like a home for the mermaids in Peter Pan.
The Salty Mermaid
The name of this New Smyrna Beach, Florida hotel really says it all. This oceanfront property offers cute suites, that white and turquoise color scheme that brings to mind the pleasant sensation of salty hair and sun-kissed skin, and plenty of options for larger group stays.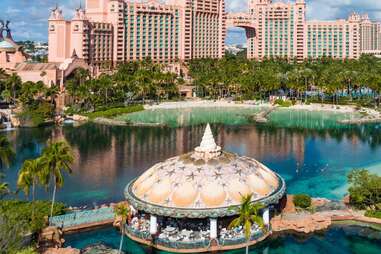 Atlantis Paradise Island Bahamas
I don't know if you ever watched Mary Kate and Ashley films growing up, but this was always the absolute top spot for my summer vacation fantasies as a kid. Plus, it's named Atlantis, and lives up to the name of a mythical lost kingdom as it's got a truly impressive amount of water slides. Located in the Bahamas, it doesn't get much more mermaid-adjacent than this.
Fanad Lighthouse
Located in Letterkenny, Ireland, this is an actual lighthouse that you can stay at! Look out over the moody waters, stunning cliffs, and imagine yourself as more of an Ondine-style mermaid, lost and looking for her sailor-lover. Romantic!
Aleria Luxury Cave Santorini
An underground cave stay featuring a heated grotto-style pool that connects to multiple parts of the home in Santorini, Greece. It doesn't get much more luxurious than this. Plus, you can play mermaids for hours at a time, without having to worry about any prying eyes or sunburns.
Packing List
A landlocked mermaid doesn't have to abandon the treasures of the ocean. Think shimmer makeup like this Danessa Myricks hydrating balm, metallic finish cream eyeshadow from Kulfi, and this stunning, iridescent Moonlight Mermaid eyeshadow palette. Ulta even has a Mermaid edition of its beauty box. You want to give part sultry siren, part The Rainbow Fish.
Your entire self-care routine can also be sea-fluenced. Pacifica's Little Mermaid Sea Foam face wash, Earth Harbor's Mermaid Milk moisturizer, and Fragrant Jewels' Little Mermaid Candle and Bath Bomb Set can turn any bath time into a more mermaid experience, whether you're halfway across the globe or right at home.
If you want even your luggage to communicate "Part of Your World" vibes, you can find bold ocean colors and pretty pastel luggage offerings from Beis, Away, and Monos, that will clearly communicate your desire to be wearing a shell bra.
Feeling the desire to go method? This Frasier Sterling necklace looks exactly like the one Ursula trapped Ariel's voice in, but a bit more chic. Leave your hair windswept, tap your toes in the water, and voila! You've got yourself a very mermaidcore vacation.