Meteor Showers Will Put on Stunning Shows in 2022. Here's How to See Them All.
There are a lot of meteor showers worth your time in 2022.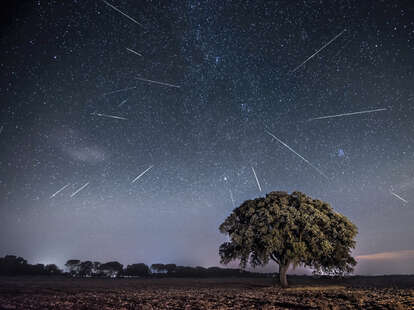 Photo by Gabriel Gonzalez (noctografia) / 500px via Getty Images
Ideally, through some kind of unforeseen mystical art, every meteor shower would peak during the new moon, so that even the most tepid among them would be worth stepping out to watch. But that's never how this goes.
The moon might be one of the biggest obstacles to a great view of a meteor shower, as its light can hide meteors, especially fainter ones. That, unfortunately, is going to be something that will occur often this year, and something that may affect two displays that are usually the year's most exciting. Nonetheless, there are a lot of meteor showers in 2022 that will be worth the effort of going out to see.
Last year, Bill Cooke of NASA's Meteoroid Environment Office told Thrillist, "If I were a casual observer, the only two meteor showers I'd spend an effort looking at would be the Perseids and the Geminids. They're the only ones whose [rates of visible meteors per hour] are up there enough to keep people's attention." This year, both of those are going to land near a full moon, so you're not going to see 100+ meteors an hour with those in 2022. But there are still plenty of good reasons to go out and look up this year.
Here's what you can expect from some of this year's major meteor showers.
April 21-22: The Lyrid Meteor Shower
It's been a long drought since the last meteor shower of any significance. The Lyrids will break that drought, though a close-to-full moon might spoil the fun. However, it will rise late, giving you an opportunity to see the meteors after midnight when they'll be at their best, and prior to when the moon rises and makes it harder to see them all. EarthSky suggests you should expect somewhere around 10 to 15 meteors per hour at the display's peak.
May 5-6: The Eta Aquarid Meteor Shower
The first of two showers that originate from the debris of Halley's Comet lands in early May. It has a wide range of potential meteors. You could see anywhere from 20 to 60 per hour when it hits its peak the morning of May 6, per Sky & Telescope. In the northern hemisphere, we're likely to be at the low end of that range or even down to 10 meteors per hour. The shower has a broad peak, however, as EarthSky notes, so you might see some meteors in the days around the peak, but it'll still show the most shooting stars the morning of May 6.
July 29-30: The Delta Aquarid Meteor Shower
The Delta Aquarids land on a night where the moon shouldn't interfere with your view. However, the display doesn't provide an overwhelming number of meteors and they tend to appear close to the horizon for viewers in the northern hemisphere. You can expect to see around 15 to 20 meteors per hour per EarthSky. If you're out stargazing on nights around the peak, you might see some shooting stars from this display as it lacks a hard peak.
August 11-12: The Perseid Meteor Shower
The Perseids are usually one of the best showers of the year. However, the moon is going to be up and its light is going to interfere with your view of the shower. Under better conditions, you might see around 90 meteors per hour. However, this year, a lot of those are going to be obscured by the moon's light. Still, it might be worth stepping out for this one considering it lands at such a perfect time of year and that it is a shower rich in fireballs. Nonetheless, Adam Mann at the New York Times suggests that you may still be able to spot around 15 to 20 meteors per hour in the morning before sunrise.
October 20-21: The Orionid Meteor Shower
The second Halley's Comet-produced meteor shower arrives in October and should provide a better show than last year, as the conditions are going to be great—the moon won't get in the way. Though, it's not the most exciting meteor shower of the year. It produces 10 to 20 fast-moving meteors per hour and is best seen in the hours before dawn on October 21.
November 4-5: The Southern Taurid Meteor Shower
The Southern Taurids don't produce a whole lot of meteors under ideal conditions. You're looking at around 10 to 20 meteors per hour according to Sky & Telescope. Unfortunately, the moon is going to run some interference on your view, so it's not going to be a great night for meteors. Though, the Northern and Southern Taurids are long-lasting, so you may see the occasional shooting star from this display through early December.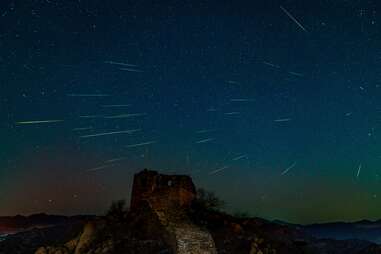 November 18-19: The Leonid Meteor Shower
The Leonids have a wild range of outcomes. You might see anywhere from 50 to 200 meteors per hour. In outburst years—the last being 2001—you might even see more than 1,000 per hour. Though, even the years where you're north of 100 are rare. That's not the expectation this year when somewhere around 10 to 15 per hour are more likely.
December 13-14: The Geminid Meteor Shower
This is the other big disappointment of the year. The most reliably impressive meteor showers in most years are the Perseids and the Geminids. Like the Perseids, the Geminids are going to have some interference from the moon in 2022, as they'll land just about six days after the full moon. You might see 100 to 120 meteors per hour other years, but the moon is going to obscure a lot of those meteors this year. NYT's Adam Mann writes that you might be able to spot 5 to 10 per hour after sunset but before the moon rises. That's not an ideal time for meteors, but it might be your best bet for the Geminids this year.
December 21-22: The Ursid Meteor Shower
The Ursids, sometimes called the "cursed Ursids" according to NASA's Bill Cooke, tend to produce around 5 to 10 meteors per hour and come at a less than ideal time to be sitting outside for hours. Still, arriving close to the new moon will make them worth a glance for stargazers in the northern hemisphere.