For entirely new reasons, Mexico is a bad place to be today. A category 5 hurricane is making landfall on the country's Pacific coast Friday afternoon, and people are describing it as "the strongest Eastern North Pacific hurricane on record" and "an absolute monster." These are not terms to be taken lightly.
Hurricane Patricia was simply a tropical storm last night, but by this morning, she'd grown into a full-blown hurricane, with sustained winds of 200 mph, 12 inches of rain in some areas, and 39 ft. waves. To put it into perspective, Hurricane Katrina had sustained winds of 140mph when it hit New Orleans. Patricia also just set a record for the lowest pressure of any hurricane on record, according to the National Weather Service, dipping to 880 millibars -- this is a very bad thing. Again, not to make light of it, but problems don't end once the hurricane passes, as mudslides and flash floods are expected into the weekend, making it comparable to Typhoon Haiyan, which devastated the Philippines in 2013.
Recommended Video
Spoil Your Pup at The Dodo's Best Dog Day Ever Event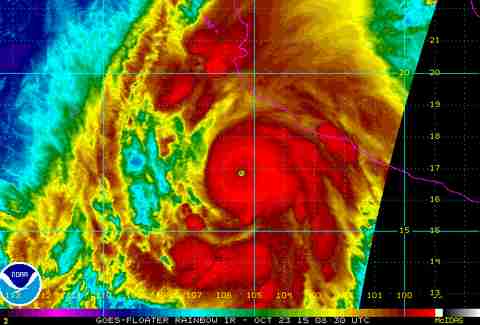 Patricia's apparently got enough power behind it to lift automobiles, and destroy any homes not built of cement and steel. Mexico's government has declared a state of emergency for all regions potentially effected, including resort town, such as Puerto Vallarta, which is currently being evacuated. . 
The most harrowing conditions are going to hit the coast, specifically the state of Jalisco. But weather is fickle, so let's hope this hurricane dissipates some before it hits.
To stay up with the hurricane's exact movements, you can watch the live stream from Puerto Vallarta below.
Sign up here for our daily Thrillist email, and get your fix of the best in food/drink/fun.
Kara King is a News Writer for Thrillist and is scared guys, real scared. Send news tips to news@thrillist.com and follow her tweets from shaking fingers at @karatillie.