Naturally, Mexico Is Not Happy About Elon Musk's 'Teslaquila'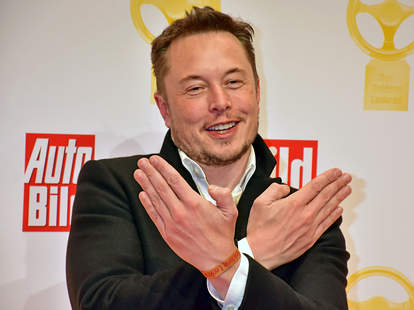 Tristar Media/WireImage/Getty Images
Having a problem with Elon Musk is kind of like having a tooth brush. It's a fundamentally human behavior. It's not mandatory, but it should be. So there's nothing surprising about the fact that the billionaire Tesla CEO has now managed to infuriate most of Mexico with his half-baked scheme to produce his own tequila -- or rather, Teslaquila.
You may be of the opinion that tequila by any other name would taste as sweet, but according Mexico's Consejo Regulador del Tequila (Tequila Regulatory Council), Musk's gimmicky booze is 1) dumb, and 2) illegal.
"If [Tesla] wants to make Teslaquila viable as a tequila it would have to associate itself with an authorized tequila producer, comply with certain standards and request authorization from Mexico's Industrial Property Institute," the council explained in a statement. "Otherwise it would be making unauthorized use of the denomination of origin for tequila."
Technically, "tequila" is a protected term -- you can't just slap it on anything. The council is responsible for making sure that actual tequila producers earn the verified tequila label by complying with national standards. True tequila must be concocted with blue agave, and produced within either Jalisco, or one of four Mexican municipalities in Guanajuato, Michoacán, Nayarit, or Tamaulipas according to a report by Reuters.
Musk, smart rich guy that he is, figured he was evading this small detail when he attempted to trademark his own boozy product as "distilled blue agave liquor." But according to the council, "The name 'Teslaquila' evokes the word Tequila [and] Tequila is a protected word."
All of this uninspired liquor nonsense began with an April Fool's day tweet earlier this year, claiming Musk had been found unconscious by a Tesla Model 3, "surrounded by 'Teslaquila' bottles."
Months later, Musk followed up on his decidedly unfunny joke with yet another tweet, announcing that he had, in fact, filed for a trademark. Teslaquila was in the works.
Naturally, once confronted for his refusal to comply with any rules... like at all, he returned to his Twitter soap box to wax poetic once more.
And there you have it: In the case of Mexican tequila experts and lawmakers versus a guy who makes fancy cars and knows very little about tequila, Musk does not win. God bless.
Sign up here for our daily Thrillist email and subscribe here for our YouTube channel to get your fix of the best in food/drink/fun.