100 Course Meal Impresario Michael Cirino Holds the Golden Tickets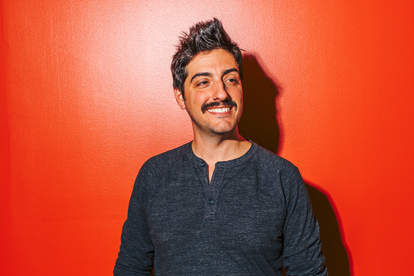 Stunt food, grand tastings, and gift bags are the perennial tenets of almost every culinary event. An optimal dining experience should culminate with the equivalent to the crescendo of live music concert. Waving sweating palms and releasing adrenal breaths after clicking the "buy" button on a pair of seats hits you the same way. Our sold-out 100 Course Meal Experience is an adventure that brings LA food culture under one roof with a splash of Thrillist wonderment – far from the ordinary. Over three days, we artfully merge theatrics, technique, and flavor. The ringmaster behind the 100 Course Meal is Michael Cirino. He is part brainiac and all Willy Wonka.
 
Recently, a video of New Yorkers serving a turkey and Thanksgiving fixings on public transportation went viral, and it reminded me of a similar stunt from 2011, when Michael and some co-conspirators smoothly hosted a full white glove-service meal on Manhattan's L-train. 
 
Starting today, at the precipice of a new decade, the 100 Course Meal brings plates galore to Downtown LA, cocktails made with the assistance of drones, liquid nitrogen ice cream that looks and tastes like popcorn, and collaborations with some of the best West Coast food spots.
 
But who is the Willy Wonka behind this culinary stunt? Come with me, and you'll be, in a world of pure imagination...
What's Eating Michael Cirino?
I threw some rapid-fire questions at Michael about food trends, spirits preference and his favorite tableside menu item.
Flour or Corn tortilla?
Flour
Gin, Tequila or Mezcal?
Tequila. I like the warmth minus the smoke.
Favorite tableside menu item: Prime rib or desserts like Banana Fosters and Baked Alaska?
Flames and fire for tableside dishes always, that means Banana Fosters or Baked Alaska.
In the future I see...
Backyard grilling. For smoking meats, I predict smaller smoking equipment for home cooks. In terms of grilling, backyard griddles will be the trend in 2020.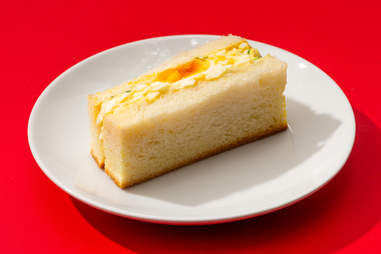 Konbi

| Cole Saladino/Thrillist
Sandos and lasers will be huge in 2020. If you can't write on your sandwich, the club sandwich will make a comeback. Except the club sandwich to be on the same level as the fried chicken sandwich or burger.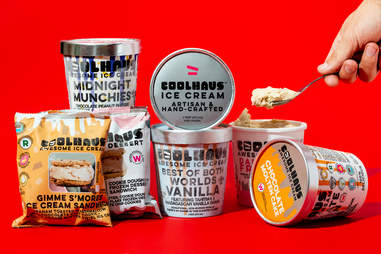 Coolhaus Non-Dairy Ice Cream

| Cole Saladino/Thrillist
Non-dairy ice cream will get closer and closer to tasting like real ice cream.
Coffee or Tea?
Coffee for sure. Chemex pour over and I love the ritual. The smell, grinding and preparation.
Sign up here for our daily Thrillist email, get Eatmail for more food coverage, and subscribe here for our YouTube channel to get your fix of the best in food/drink/fun.