Some Lunatic Got a 'Phelps Face' Tattoo, and It's Glorious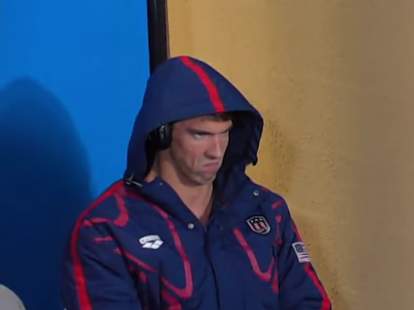 Michael Phelps' now-infamous death stare at South African swimmer Chad Le Clos has spawned a score of fantastic "Phelps Face" memes, but the greatest rendition of this legendary sour puss is arguably the one currently tattooed on the leg of one inspired/psychotic Canadian man.
Artist Livia Tsang shared a photo of the tattoo on Instagram, remarking that not only did the man let her emblazon his flesh with the Phelps Face, but that the man in question was in fact her boss at Chronic Ink, a tattoo shop in Toronto.
Here's the photo of Tsang's masterwork:
While there's no denying the tattoo's accuracy, and the fact that the recipient actually works at a tattoo shop does make it a bit more understandable, the "Phelps Face" is still a questionable choice as far as big-ass calf tattoos go.
Then again, given some of the truly regrettable tattoos people have gotten, maybe this one isn't so bad after all. At the very least, it's not a Chad Le Clos tattoo.
Sign up here for our daily Thrillist email, and get your fix of the best in food/drink/fun.
Gianni Jaccoma is an editor at Thrillist, and he's got a Mark Spitz tattoo on his inner thigh. Follow him on Twitter @gjaccoma