Michael Phelps Will Race a Great White Shark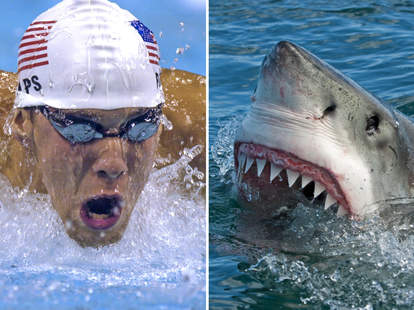 That's right, when you beat 39 world records and win 23 Olympic gold medals, apparently there's only one thing left to do: race the one of the world's most terrifying predators in the water. Judging by the Discovery Channel's announcement heralding its annual Shark Week television event, Michael Phelps will do just that, in a special called "Phelps vs. Shark: Great Gold vs. Great White."
The special is scheduled for Saturday, July 23, at 8pm EST. Here's the blurb provided by Discovery Channel, and it's light on specifics but heavy in intensity (emphasis ours):
They are one of the fastest and most efficient predators on the planet: Sharks. He is our greatest champion to ever get in the water: Michael Phelps. 39 world records. 23 Olympic golds. But he has one competition left to win. An event so monumental no one has ever attempted it before. The world's most decorated athlete takes on the ocean's most efficient predator: Phelps V Shark – the race is on! Produced by Peacock Productions.
It's not yet clear what the stakes here are. Will Phelps and the shark vie for a prize at the end of the racecourse? Just how close will Phelps get to this shark? How big and how terrifyingly toothy will the champion shark be? Will a last-minute reveal show, once and for all, that Michael Phelps, in fact, is a shark, in what would probably be the greatest example of shark-related television mythmaking since the days of Jabberjaw? When reached for comment with questions like these, Discovery told us it was too early to reveal more details.
What we do know from Phelps' Instagram is that the Olympian, shark-in-disguise or not, is definitely still alive. He's recently shared photos of himself and his wife together, as well as a tantalizing image of roast beef (which any shark would totally jump on, just saying).
He also shared this image five days ago, however:
So clearly Phelps is hanging with sharks -- either as part of filming for Shark Week or because he just can't stay away from these powerful predators. Shark Week will actually end with a (race-free? maybe?) special titled "Shark School with Michael Phelps," which promises him swimming with hammerhead sharks up close and personal. But we're most excited to see how Discovery plans to make the race interesting. Phelps' top speed in the water is about 6 mph, while Great Whites can reach speeds of about 15 mph. We'll have to wait for more details.
Sign up here for our daily Thrillist email and subscribe here for our YouTube channel to get your fix of the best in food/drink/fun.