Serial Public Pool Pooper Caught on Camera, Slapped With Summer-Long Ban
Everybody poops. It is both an inherent truth and a pretty excellent children's book...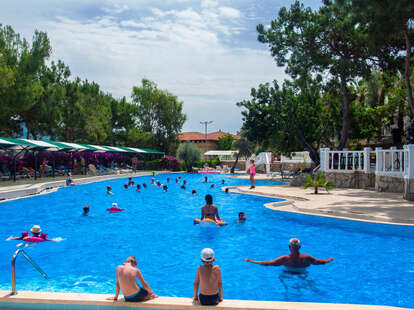 Shutterstock
Shutterstock
Everyone poops. It is both an inherent truth and a pretty excellent children's book. However, most of the potty trained among us have the common decency to do our pooping in private, and not, say, in a pool. Nevertheless, that's been an issue for one unfortunate Michigan community, which has been dealing with the scourge of a serial public pool pooper this summer. Good news, though: They just caught the culprit.
Nothing ruins a hot summer day at the pool like a turd in the water, and a certain public pool in the Buckingham Woods neighborhood of Macomb Township, Michigan has come to know that all too well this season, following a spate of rogue poopings. Swimming in shit is a public health hazard on just about every level, and the incidents have forced the pool to close down during its most popular time of year. Fortunately, thanks to the wonder of security cameras, officials have finally cracked the case of the mystery dookie deliverer, according to the Detroit Free Press.
After reviewing footage and inspecting attendance logs for the days when it happened, the facilities team that looks after the pool says it's identified the suspect (who remains unnamed), and have officially banned them from the pool for the rest of the summer. They're also reportedly looking into potential restitution options and hired a new attendant to keep an eye on would-be copycat crappers.
Frankly, a summer-long ban from swimming seems a like a tap on the wrist. After all, any person over the age of five who's intentionally dropping deuces in the middle of Marco Polo probably won't be getting their act together in the next nine months.
Sign up here for our daily Thrillist email and subscribe here for our YouTube channel to get your fix of the best in food/drink/fun.