Everywhere You Can Get Free Food on Election Day if You Vote
You probably don't need another person telling you that Election Day is Tuesday, November 6. Or that it's monumentally important for you to get out and vote. But you know what? We're going to do it anyway: vote. Exercise your constitutional right to have a say in the future of our democracy. The stakes of the 2018 Midterm Election should be motivational enough, but if not... well, there's always the free food you can get if you vote.
If, for some reason, you need another reason to vote, restaurants all across the country are putting a carrot at the end of the stick of democracy (though, that's not necessarily legal). All sorts of popular chains -- Shake Shack, Potbelly, Blaze Pizza, and more -- are offering free food and treats for people who vote! Sure, a free order of fries from Shake Shack probably shouldn't be the reason you vote, but it's a damn good reason to say "yes, please" to the person handing out "I Voted" stickers when you cast your ballot. In any case, vote.
Here are all the places offering free and cheap food to thank you for voting this Election Day.
Free Food on Election Day
Shake Shack
The deal: You're getting free fries with any order on Election Day. Show your "I Voted" sticker in-store or use the code "ivoted" on the Shack App.
When: November 6
Potbelly
The deal: Make a purchase with an "I voted" sticker on your shirt, and you'll get a free cookie.
When: November 6
Taco John's
The deal: Pop into the Taco John's reward app, and you'll find an offer for a free order of chips and nacho cheese. This is around because Election Day happens to also be National Nacho Day.
When: November 6
SAJJ Mediterranean
The deal: Flash that sexy "I Voted" sticker and Sajj will hook you up with a free dessert at locations throughout California.
When: November 6
California Tortilla
The deal: Tell them you voted and you're getting free chips and queso.
When: November 6
Condado Tacos
The deal: Flaunt that "I Voted" sticker at Condado, and you'll earn yourself a free taco.
When: November 6
Birch Coffee
The deal: Get the sticker out and any of the 10 NYC locations will hook you up with a free drip coffee.
When: November 6
Bobo's Oat Bites
The deal: In an effort to get oat the vote (get it!?), Bobo's is offering a free bar -- they make vegan, gluten-free oat bars -- via a coupon that will be mailed to if you share that you voted on social media and tag @eatbobos.
When: November 6
Twin Peaks
The deal: Don your "I voted" sticker and, boom, you'll get a free order of chips and queso with the purchase of any beverage.
When: November 6
Treat House
The deal: Show your "I voted" sticker and get buy-one-get-one Rice Krispie treats at the New York location at 452 Amsterdam Ave.
When: November 6
Farm Burger
The deal: Across all 12 locations, Farm Burger will offer a free order of fries to anyone wearing an "I Voted" sticker or anyone who mentions the farm-to-table restaurant's "free fries" promotion on social media. But don't go too early. All locations are opening late to make sure employees have an opportunity to vote on Tuesday.
When: November 6
Lemonade
The deal: Stop in for a free cup of the fast-casual hub's namesake beverage with any purchase, as long as you're sporting that all-important sticker.
When: November 6
Baked By Melissa
The deal: Hit up any Baked by Melissa location with an "I Voted" sticker and get a free cupcake. If you want to order online, you'll get 10% off your order with the code "IVOTED2018" through November 7.
When: November 6
Jeni's Ice Creams
The deal: You can score an extra scoop of ice cream for free when you visit a Jeni's scoop shop and let them know you voted. If you think about it, an extra scoop might just help you get through the day as we wait for the returns to come in.
When: November 6
Joe Coffee Company
The deal: Need a post-vote pick-me-up? You're not alone. Thankfully, this NYC coffee chain's got you covered with free 12oz cups of drip coffee. All you have to do is show your "I Voted" sticker and the free caffeine is yours.
When: November 6
Pizza to the Polls
The deal: While not as straightforward as other Election Day food deals, this promotion could get you a free pizza delivery while you wait to vote today. The non-profit organization has raised thousands of dollars to send free pizzas to voters waiting in long lines at polling stations. Here's how to request a pizza delivery for you and your fellow voters.
When: November 6
More Election Day Food Deals
Blaze Pizza
The deal: Watch the returns with a pizza dinner. Order online or in the app through DoorDash and delivery is free.
When: November 6
Drizly
The deal: The booze delivery company has deals to help you toast your sorrows or celebrate your victory on election night. New customers get $5 off an order with the code "Election5" in Indiana, Massachusetts, Maine, Minnesota, North Carolina, New Jersey, Texas, and Washington. Take $10 off with the code "Election 10" in Arizona, California, Colorado, Florida, Iowa, Illinois, Kentucky, Louisiana, Maryland, New York, Oregon, Rhode Island, Tennessee, Wyoming, and Washington, DC.
When: November 6
Coolhaus
The deal: Pick up a "free election dip" on any ice cream sandwich purchase with your voting sticker. (It's free sprinkles.)
When: November 6
Baskin-Robbins
The deal: Turns out you don't even need your sticker for this Election Day promo. The ice cream shop has buy one, get one for 99 cents ice cream cones. You can take a friend to vote, then take them out for a cheap ice cream cone.
When: November 6
Jimboy's Tacos
The deal: In celebration of National Nachos Day (also today), Jimboy's has $5.50 ground beef nachos at locations throughout California and Nevada.
When: November 6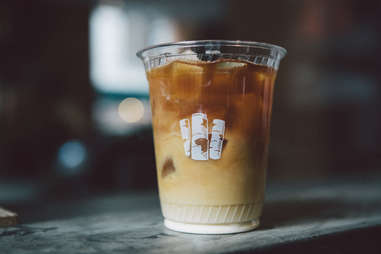 Other Food Deals You Can Get on Election Day
Applebee's
The deal: This month's super-cheap Neighborhood Drink of the Month is $2 Bud Lights. Remember this if you're planning to head to the casual chain for a post-vote meal.
When: Every day in November
Sonic Drive-In
The deal: Need something to snack on while you wait in line at your polling station? Every day from 2-4pm, you can grab half-price drinks and 99-cent corn dogs.
When: Ongoing
Carl's Jr.
The deal: Sign up for the Carl's Jr. promo club, and you're going to get a free small order of fries and a small beverage.
When: Ongoing
Dairy Queen
The deal: Download the DQ mobile app and have your rewards loaded with a coupon for a free small Blizzard.
When: Ongoing
Hungry Howie's
The deal: Buy a large pizza at regular price and get a free medium one-topping pizza with the code "SAVE18."
When: November 4-7
PintPass
The deal: This app asks you to answer a couple questions about brewery taprooms when you stop by for a beer. In exchange for your time, they're buying you a round. Get all the details on grabbing free beers through PintPass here.
When: Ongoing
Arby's
The deal: Sign up for Arby's email newsletter and start with a coupon for a free roast beef sandwich.
When: Ongoing
Bruegger's Bagels
The deal: You get how this goes now. Sign up for their Inner Circle club, and new members get a coupon for a free bagel with cream cheese.
When: Ongoing
Einstein Bros. Bagels
The deal: Find a similar deal here. Sign up for the Shmear Society and grab a free bagel.
When: Ongoing
Baja Fresh
The deal: Join the restaurant's Club Baja membership program, and you'll get an offer for a totally free taco, valid for one chicken, carnitas Baja, or Americano taco.
When: Ongoing
Quiznos
The deal: Sign up for the Toasty Points loyalty app and get rewarded with a free 4-inch sub with any purchase.
When: Ongoing
Del Taco
The deal: Sign up for Del Taco's Raving Fan eClub and get two free grilled chicken tacos for signing up.
More Election Day Deals?
If you know of an Election Day deal that we missed, feel free to send the details over to news@thrillist.com and there's a chance we'll add 'em here. Links to the restaurant's official offer information are appreciated. Also, vote. Please vote.
Want more free food and food deals? Here's our running list of all the free food you can get right now. You're welcome.
Sign up here for our daily Thrillist email and subscribe here for our YouTube channel to get your fix of the best in food/drink/fun.

Dustin Nelson is a News Writer with Thrillist. He holds a Guinness World Record but has never met the fingernail lady. Follow him @dlukenelson. dnelson at thrillist dot com