Popeyes Just Unleashed Huge Meal Combos on a Special Migos-Inspired Menu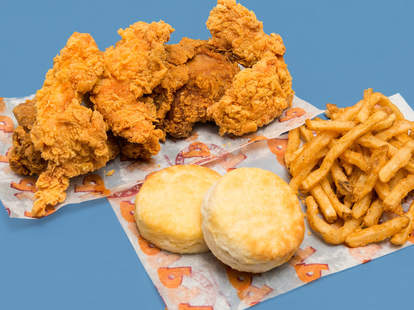 We can't shut up about the Popeyes Chicken Sandwich, but for good reason. It trumps Chick-fil-A, Church's, and McDonald's most recent copycat attempt. You know it, I know it, and Migos knows it. And now, the rap trio is taking the obsession to new heights with an entire Uber Eats combo menu inspired by their actual orders.
Quavo, Offset, and Takeoff aren't post-chicken sandwich bandwagon fans, either (like me). They've been rapping about the chain since 2017 -- and presumably eating there longer. I'd say that gives them pretty good authority on what to order. Beginning December 6 and running through January 2, Uber Eats is offering four hefty meal options nationwide and throughout Canada: Tour Rider (because Popeyes is actually on their tour rider), The Offset, The Quavo, and The Takeoff. 
Here's what's included: 
Tour Rider: 20 sauces, seven tenders, one large mashed potatoes with gravy, two large fries, five biscuits, and one gallon of lemonade. Available starting at $46.99. 
The Offset: Eight pieces BIC chicken meal, one large fries, one large mashed potatoes with gravy, and four biscuits. Available starting at $21.99. 
The Quavo: Two chicken sandwiches, two regular fries, one regular mashed potatoes with gravy, two apple pies, and two small drinks. Available starting at $17.99. 
The Takeoff: Five tenders, two sauces, one regular mashed potatoes, two biscuits, and one apple pie. Available starting at $9.99.
"Migos' love for Popeyes is no secret. They rap about it, they include it in their tour rider and Quavo even tried selling Popeyes' new viral chicken sandwich for $1,000," the chicken chain said in a statement Thursday. "Now, they are offering their fans and Popeyes lovers alike the opportunity to taste each of their favorite Popeyes menu item." 
I'm gonna need The Quavo, STAT.
Sign up here for our daily Thrillist email and subscribe here for our YouTube channel to get your fix of the best in food/drink/fun.
Megan Schaltegger is a staff writer at Thrillist. Follow her @MegSchaltegger.