This New 3D Map of the Universe Shows the Milky Way in Groundbreaking Detail
The European Space Agency's satellite has provided precise new data about outer space.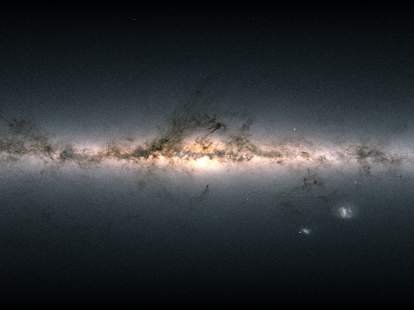 The European Space Agency just publicized new data from its Gaia observatory, which has been hovering in space since 2013 on a mission to chart a 3D map of the galaxy that will give astronomers clues to solve the universe's biggest mysteries.
The spacecraft's Early Data Release 3 (EDR3) is only part of the third set of data—the rest will be compiled in 2022—but its findings are monumental for understanding the origins and magnitude of the Milky Way.
"The new Gaia data promise to be a treasure trove for astronomers," said deputy project scientist Jos de Bruijne in the release.
This complete map of the sky shows the density of the stars.

| ESA/Gaia/DPAC
The new maps show the total density of the stars, the brightness and color of the sky, the acceleration of the solar system, and the motion of the stars.
"Gaia EDR3 is the result of a huge effort from everyone involved in the Gaia mission. It's an extraordinarily rich data set, and I look forward to the many discoveries that astronomers from around the world will make with this resource," Timo Prusti, a Gaia project scientist, said. "And we're not done yet; more great data will follow as Gaia continues to make measurements from orbit."
Watch the video below for a preview of EDR3's findings, and read the report to get the full scoop.
Sign up here for our daily Thrillist email and subscribe here for our YouTube channel to get your fix of the best in food/drink/fun.