The Millennium Falcon Is Hidden but of Course Someone Found It on Google Maps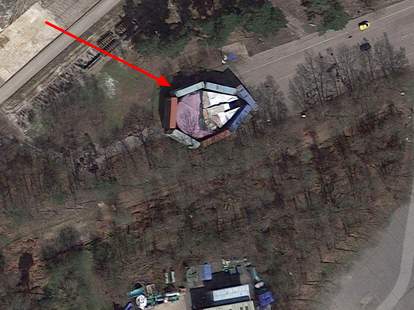 In a spoiler-rich world, studios have to keep everything under wraps.
It appears Disney was literally keeping things under wraps near Longcross Studios, about 30 miles outside London. Eagle-eyed Google Maps users have spotted Han Solo's Millennium Falcon hidden from anyone trying to spot it at ground level. It looks like it's surrounded by shipping containers to obstruct the view. However, like far too many things, it can't be hidden from Google and Google Maps.
Longcross Studios, where portions of The Last Jedi were shot, has previously been home to productions like Thor 2: The Dark World, Skyfall, and Martin Scorsese's Hugo.
It's hard to know when the image was taken because imagery on Google Maps could be up to a few years old. Additionally, as noted by Mashable, the Millennium Falcon was spotted at this location as far back as June. However, it's been spotted again and is making the rounds on social media. It may have gone viral this time simply because fans are desperate for that sweet, sweet The Last Jedi action.
For now, you'll just have to sate yourself with a grainy image of the Millennium Falcon and excited wheezing (or watch Rogue One on Netflix), because The Last Jedi hits theaters on December 15.
[h/t Business Insider]
Sign up here for our daily Thrillist email, and get your fix of the best in food/drink/fun.
Dustin Nelson is a News Writer with Thrillist. He holds a Guinness World Record but has never met the fingernail lady. Follow him @dlukenelson.