Minnesota: Here's How to Make Sure Your Vote Counts in the 2020 Election
What you need to know, including key deadlines, registration details, and how to vote by mail.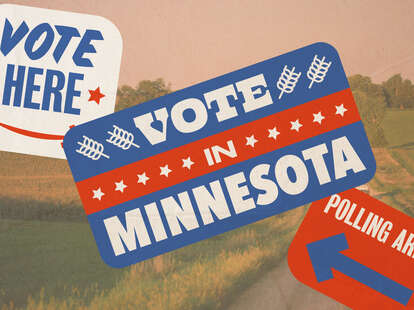 The 2020 General Election is coming up fast. For many people, it feels like years have passed since March. But it's mid-September, and November 3 is going to be here before you know it.
Between the importance of the election and the ongoing pandemic, it's worth planning out how you're going to vote this year. Fortunately, in Minnesota, there are options that will help you vote safely and make sure you can make your voice heard in local and national elections. Here's everything you need to know about registering and safely casting a ballot in 2020.
What's the deadline to register to vote in Minnesota?
Registration closes 21 days in advance of the election in Minnesota, so October 13. You have until 11:59pm that day to register online or until 5pm if you're voting "on paper." If you miss those deadlines, you're still able to register on Election Day at your precinct. However, that will increase the time you spend at your voting location, which isn't ideal during a pandemic.
How to register to vote in Minnesota
There are five guidelines that determine if you're eligible to vote in Minnesota, per the Secretary of State's website.
1. You must be a US citizen.
2. You must have been a resident of Minnesota for at least 20 days.
3. You must be finished with all parts of any felony sentence.
4. "You can vote while under guardianship unless a judge specifically has revoked your right to vote."
5. "You cannot vote if a court has ruled that you are legally incompetent.
If you qualify, you may register online at the Secretary of State's website.
Alternatively, you can register by paper by downloading a form here. You can return it in person or by mail to your county election office or directly to the office of the Secretary of State.
If you choose to register at your polling place the day of the election, there are a few options for how you can register. Though, it's worth noting -- again -- that this option will increase the time you spend in your polling place, which is not ideal in the midst of a pandemic. Here are your options:
1. Bring a current photo ID with your current address.
2. If your ID doesn't have a current address, you can bring a photo ID and a document with your name and current address. (See a list of valid forms of ID and valid documents here.)
3. You can have a registered voter from your precinct vouch for you if you do not have proper documentation. They will need to sign an oath confirming your address. You can vouch for a maximum of eight people and may not vouch for others if someone else had to vouch for you.
4. A college ID that matches a student housing list submitted by a college or university. Check with your school to be sure they've submitted a list and that you're included.
5. You can register day-of if you have been previously registered within your precinct but have changed addresses or your name.
6. If you registered late, you may get a notice of late registration by mail. You can bring that as a document for proof of residence.
7. If you live in a residential facility, a staff member may accompany you to confirm your address and vouch for you. The staff person must prove their employment at the facility in order to vouch. Find more information about that option here.
Can I vote early? When does early voting start in Minnesota?
You're able to vote early with an absentee ballot (more on that in a minute) beginning 46 days prior to Election Day. Specifically, the early voting period is September 18 through November 2.
Can I vote by mail?
Yes. You have the option to vote absentee by mail in Minnesota. Additionally, some non-metropolitan jurisdictions hold elections by mail instead of a polling place. You can find details about that here if you live in one of those areas.
How to request an absentee ballot in Minnesota
You can request an absentee ballot online through the state's Voter Information Portal. This ballot will allow you to vote in federal, state, and county elections. To file the request you must:
Be eligible to register and vote in Minnesota.
Provide an email address.
Have an identification number such as your MN-issued driver's license, a Minnesota ID card, or the last four digits of your social security number.
If you do not have an email and identification number, there are ways to apply to request a ballot by mail. Additionally, active military and overseas voters can vote absentee but will need to use this special form.
Is there a way to track my mail-in ballot? How can I make sure it's counted?
Yes! The state has a portal where you can track the status of your ballot, so you know where your ballot sits through every step of the process. This will allow you to ensure that your mail-in ballot was received and counted.
How can I stay safe while voting in person?
There are ways you can reduce the risk of getting COVID-19 if you plan to vote in person at your local polling place. The Centers for Disease Control & Prevention has issued safety recommendations for voters -- all of which are simple steps you can take to protect yourself and others.
Here's a rundown of what the CDC recommends, per its official election guidance page:
Wear a mask.
Keep a distance of at least six feet from others at all times.
Wash your hands both before and after leaving your polling location.
Use alcohol-based hand sanitizer containing at least 60% alcohol frequently throughout your time inside the polling place, especially after you touch things like door hands, voting machines, and other surfaces that lots of other people touch.
If you cough or sneeze, cover them with a tissue or the inside of your elbow. Dispose of the tissues in a lined garbage can, then use that 60% alcohol hand sanitizer again.
Don't try to disinfect the voting machine or equipment yourself because you may end up damaging them. This is where hand sanitizer comes in handy. Use it after you touch the voting equipment or any other equipment at your precinct. If you use it before you touch the equipment, make sure your hands have dried before casting your ballot or touching any of the equipment present.
Try to vote when your polling place isn't at its busiest. This might involve driving by and checking to see how long the line is or making a plan to vote early in the dat.
Verify that you're registered to vote before you leave home and make sure you bring any documents you'll need to avoid complications that could result in spending more time inside the polling place.
Bring your own black ink pen for marking your ballot, or your own stylus (just check with a polling place worker before you use it).
If possible, fill out a sample ballot at home that you can use to speed up casting your ballot at the polling location. Knowing who you plan on voting for in each race will save you time inside the polling station.
It all boils down to using your common sense.
Additional Minnesota voting resources
Sign up here for our daily Thrillist email and subscribe here for our YouTube channel to get your fix of the best in food/drink/fun.