The USA Is Finally an Olympic Champion in Curling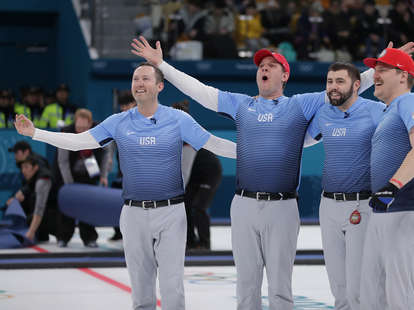 Richard Heathcote/Getty Images
Richard Heathcote/Getty Images
The United States has never been a curling powerhouse. To the contrary, Team USA has usually been on the outside looking in when it comes to strangest sport at the Winter Olympics. That all changed rather improbably on Saturday, when the Americans beat Sweden 10-7 en route to a shocking gold medal win.
The win capped a days-long effort by Team USA to dig out of a massive hole after losing four of its initial six games. To reach the finals, the Americans had to beat pre-tournament favorite Canada twice -- once early in the tournament and again in the semifinals -- and also see off Great Britain and Switzerland.
Fueling the comeback was skip John Shuster, whose perfect delivery turned around a deadlocked 5-5 match into a glorious 10-7 victory over Sweden.
Shuster told NBC:
"It was fun to go out there and be the team and the player that got us here and that we've worked so hard to be."
They did work hard, and overcame a glut of disappointments and setbacks to reach the top of the podium. Team USA hadn't reached a curling semifinal since the 2006 Games in Turin, Italy. In that year, Shuster was on the team that won bronze, although medals evaded the Americans in the 2010 and 2014 Games.
Now, in an homage to the American hockey heroics of the 1980 Games in Lake Placid, NY, the US curling triumph has been dubbed the "Miracurl on Ice."
If this goes on to live on in Olympic lore like 1980, any forthcoming John Shuster biopic should include cameo from curling fan Mr. T. Just a thought.
Sam Blum is a News Staff Writer for Thrillist. He's also a martial arts and music nerd who appreciates a fine sandwich and cute dogs. Find his clips in The Guardian, Rolling Stone, The A.V. Club and Esquire. He's on Twitter @Blumnessmonster.