This Dude Emailed Everyone Named Claudia at His College to Find a Lost Tinder Crush
Tinder swiping, although a simple enough practice, occasionally sees potential romance fall by the wayside. But not for one enterprising young man at Missouri State University, who utilized his grasp of the internet when his fingers failed him.
Hayden Moll realized that he made a mistake after swiping left on a girl named Claudia. Unable to live without someone whom he had never met, Moll took it upon himself to email every girl named Claudia at Missouri State University, student body size 23,537.
Meanwhile, the elusive Claudia for whom he was searching got his message, and promptly put it on Twitter, where the young Hayden Moll bared his yearning heart for all to see.
Apparently the young man's memory is fresh, much like his capacity for putting himself in vulnerable situations online. His description of Claudia's Tinder profile was pretty impeccable, so it wasn't hard for her to recognize she was the object of his affection, or infatuation, or whatever.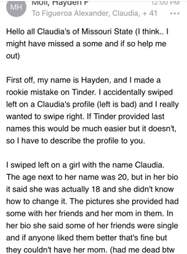 He then asked Claudia (all the Claudia's?) out for donuts, if they were interested.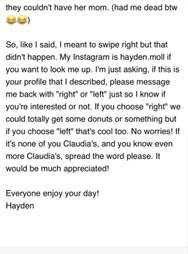 Like a love story simultaneously fit for a Hallmark movie and dating app promos, Hayden and Claudia have been cheered on since the original email surfaced last Saturday. Hell, they've even got their own shirts now, because the internet works at blinding speed. (Everyone will forget about this next week, promise).
The relationship detectives at MTV's Catfish also chimed in, reminding everyone that they still exist. 
While it looks like sparks have flown and tweets have been retweeted, it isn't clear if the duo have actually gotten together for a date. In any case, snaps are in order for Hayden Moll and his shot of love across the bow via the email servers of Missouri State University.
Sign up here for our daily Thrillist email and subscribe here for our YouTube channel to get your fix of the best in food/drink/fun.
 
Sam Blum is a News Staff Writer for Thrillist. He's also a martial arts and music nerd who appreciates a fine sandwich and cute dogs. Find his clips in The Guardian, Rolling Stone, The A.V. Club and Esquire. He's on Twitter @Blumnessmonster.