M&M's Newest Flavor Tastes Just Like Oreos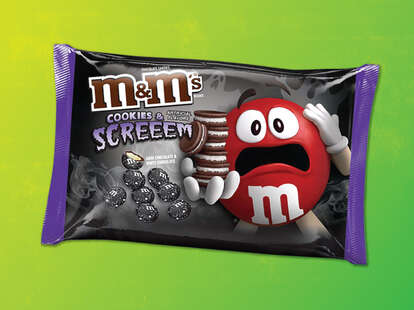 Maggie Rossetti/Thrillist
When it comes to common Halloween candy, M&M's easily outrank the sugary, tricolor kernels of despair known as candy corn, but at the same time, the classic chocolates are far from the best sweets you'll find in a plastic jack-o-lantern bucket. But there's a damn good chance that may change this fall with the launch of an all-new M&M's flavor inspired by Oreos.
The new flavor is officially called Cookies and Screeem, and it's basically the M&M's-Oreo hybrid you've been waiting for, albeit totally unofficial. Unlike the ubiquitous colorful M&M's, the Halloween-themed candy features a black and white speckled shell that's reminiscent of a cookies and cream candy bar and an interior layered with dark chocolate and white chocolate. Best of all, there's a chance you can get your hands on packages of the stuff right now, calendars be damned.
The new M&M's have already been spotted at Target stores, according to a report by Popsugar. Perhaps the only obstacle you face at this point is whether or not your willing to be seen buying Halloween candy in late August. Of course, we certainly won't judge you for it. OK, OK, maybe a little.
Either way, you should probably start preparing for the first-ever pumpkin pie M&M's in the meantime.
Sign up here for our daily Thrillist email and subscribe here for our YouTube channel to get your fix of the best in food/drink/fun.

Tony Merevick is Senior News Editor at Thrillist and thinks trail mix is the best way to enjoy M&M's. Send news tips to news@thrillist.com and follow him on Twitter @tonymerevick.