This Beer Has a Dungeons & Dragons-Style Game Right on Its Label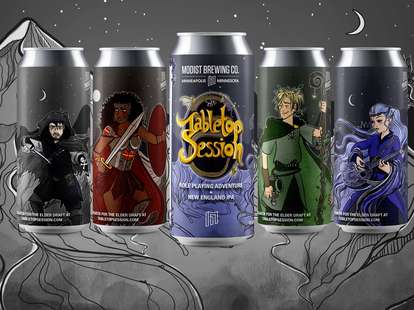 Courtesy of Modist Brewing
If being a beer nerd doesn't quite emphasize the nerd portion well enough for you, Modist Brewing has a suggestion. It has created a beer with singer-songwriter (and dungeon master) Jeremy Messersmith that is a "Dungeons & Dragons"-style tabletop game in a can.
The beer is called Tabletop Session. It is a New England IPA that comes in a four-pack with a different label on every can. Each of the cans has a different character for the original D&D-style campaign created just for this release. The Minneapolis brewery officially started putting the D&D-ready cans in stores on February 17.
It's a relatively straightforward quest that is accessible for beginners. If it offers any comfort for an RPG newbie, the guide says, "If a character wants to try something crazy or if there's confusion about a rule then just make something up and try to roll with it as best you can. It's only a game on a beer can after all." (It's not totally dissimilar to that Wendy's tabletop adventure released last fall. Though, that was pretty elaborate with lots of fun artwork.)
To play, just buy a four-pack, distribute the cans around the table, and then the game master can head to TabletopSession.com to guide your band of misfits on a journey called "Search for the Elder Draft."
While you only need a single four-pack to play, it's a session beer, so you'll probably want two or three four-packs before you complete the quest for the Elder Draft.
Sign up here for our daily Thrillist email and subscribe here for our YouTube channel to get your fix of the best in food/drink/fun.