All the Lonely People Get a Free Side of Queso at Moe's Today for Valentine's Day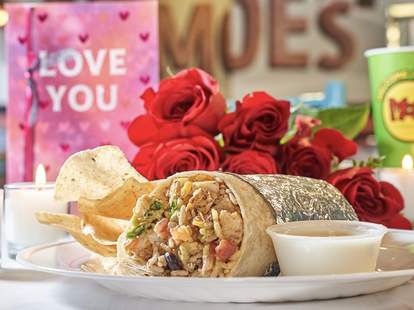 On a holiday meant for lovers, some singletons flood to a very special franchise just to hear someone say, "Welcome to Moeeeeee's!!!" It's obvious that Chipotle doesn't love y'all like Miss Moe's, whose hiring process includes an enthusiastic greeting test just for your pleasure. And here's even more proof if ya don't believe their love: People who visit their local Moe's Southwest Grill and order a burrito on Valentine's Day will get a complimentary side of queso.
This is a superior kind of Valentine's cheesy, because nobody will feel uneasy while you and your Cutie Queso smack lips (save for your gastrointestinal tract, depending). One 6oz cup of queso normally goes for around $3.50, which can now go towards a pack of tissues, aha! Couples can also benefit from the queso thing, of course, but you dare not share chips with your lover publicly unless you want to make grown men cry.
Jokes aside, there's really no reason to cry on Valentine's Day, especially because there are countless food deals out there besides the queso (look out for an article like this one in the future). Happy February 14 to you sweetie pie, and may you find the love of your life at the napkin stand. 
Sign up here for our daily Thrillist email and subscribe here for our YouTube channel to get your fix of the best in food/drink/fun.