Chipotle Is Getting Trolled Hard by Moe's and You Can Get Free Queso Because of It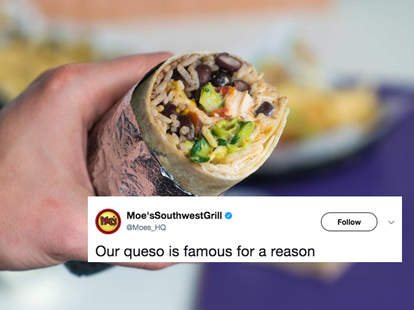 Moe's Southwest Grill | Twitter Screengrab
Lovers of fast Mexican food are celebrating a victory over Chipotle's unchanging menu this week. The fiesta was caused by Chipotle finally offering queso after years of rejecting its most-requested menu addition. Unfortunately for cheese dip addicts, Chipotle is only offering queso at its New York test kitchen. Small as the test run may be, Moe's Southwest Grill -- 2016's most popular Mexican chain in the US -- has taken note.
Moe's has launched a full-scale troll of Chipotle and its queso. "These queso impersonators are claiming to serve the perfection that is smooth and delectable queso, attempting to fool consumers across the nation," the company said Wednesday in a statement that all but mentions Chipotle directly.
The release bullet points how you can determine if you're a "victim" of "imposter queso," and it's basically a list of early complaints about Chipotle's queso. "The texture is grainy," one bullet point reads. "When snapping a gram-worthy pic for #foodporn, nothing happens," says another.
Chipotle had avoided queso in the past because of its vow to avoid artificial flavors, colors or preservatives which can make it tough to turn out a quality queso.
It's a Wendy's-esque campaign to troll a competitor, but Chipotle so far turned the other cheek, avoiding a Twitter flame war. So, there's no witty banter going back and forth, and there probably won't be. (Moe's could always try trolling Wendy's about its new bacon queso burger.)
However, Moe's is putting its money where it's mouth social media campaign is. The chain is offering free queso on July 13 at its Avenue of the Americas location in New York City. That Moe's happens to be just a 10-minute train ride up 6th Avenue from the Chipotle NEXT Kitchen.
If you want to know which queso is feta, you don't need to be blue. They're close enough to try both. You could even walk between the restaurants if you're feeling limburger. It's so close, you won't get adelost. You can decide if Moe's can truly cream the competition or if it's a cheesy campaign designed by muensters stirring up a fight when they should have left the issue provolone.
Sign up here for our daily Thrillist email, and get your fix of the best in food/drink/fun.
Dustin Nelson is a News Writer with Thrillist. He holds a Guinness World Record but has never met the fingernail lady. Follow him @dlukenelson.