This Accidentally NSFW Text From a Mom Is Absolutely Hilarious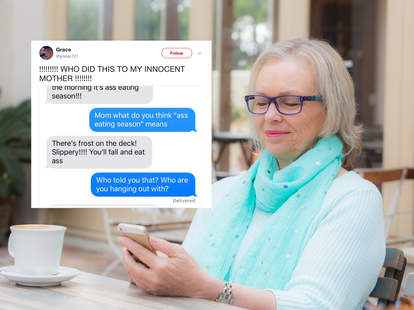 Oh, moms. Your dear old mother, as wise and insightful as she is, might not be perfectly attuned to the subtleties of modern vernacular. Case in point: a text exchange between a mother and daughter took a very strange turn earlier this week when a new term was unwittingly introduced to the lexicon: "ass eating season."
Not to be confused with autumn or the tidings of a bountiful harvest, "ass eating season" has nothing to do with the tilt of the Earth's axis, nor does it pertain to full moons or your astrological sign. But trust us, it really has nothing to do with what you're thinking about at this point.
Grace, the 23-year-old who received the horrifying message, explained to Mashable that her mom confused the concept of "ass eating" with "eating sh*t" -- a colloquial expression used to describe falling on the ground. All Grace's mother wanted to do was warn her daughter about potentially slipping on an icy surface. Little did she know her motherly innocence would be put on blast, making her the feast of Twitter and an emblem of her much older generation.
Grace's tweet has ratcheted up over 100,000 retweets and nearly half a million likes since it was posted on Wednesday. Needless to say, people thought it was funny, in like, an endearing way.
Grace told Mashable that her mom is now aware that "ass eating season" has never been a mainstream expression. Grace said her mom "was laughing and said she had no idea" that the term is overtly sexual, thus confirming the adorable context of this whole situation.
In any case, never underestimate your mother's capability for unexpected viral hilarity.
Sign up here for our daily Thrillist email and subscribe here for our YouTube channel to get your fix of the best in food/drink/fun.

Sam Blum is a News Staff Writer for Thrillist. He's also a martial arts and music nerd who appreciates a fine sandwich and cute dogs. Find his clips in The Guardian, Rolling Stone, The A.V. Club and Esquire. He's on Twitter @Blumnessmonster.