The Founder of Spanx Wants to Send You on a Solo Trip to This Luxury Resort
You have until March 27 to enter the contest.
Photo courtesy of Montage Palmetto Bluff
Forget about couples retreats—solo trips are what's hot in travel right now, so much so that big-time celebrities and entrepreneurs are giving them away to encourage self-discovery and empowerment.
Spanx founder Sara Blakely is doing just that. The entrepreneur is launching a contest and is giving away a gorgeous solo trip at Montage Palmetto Bluff, the celebrity-favorite South Carolina hotel where she went on a solo resort for her 50th birthday.
The solo vacation will surely be one to remember. The lucky winner will be gifted a three-day, three-night stay at the marvelous 20,000-acre property, where they will be able to relax surrounded by nature, greenery, and delicious food. Airfare is included and, as Blakely highlighted in her Instagram post announcing the contest, daily massages and unlimited French fries are too.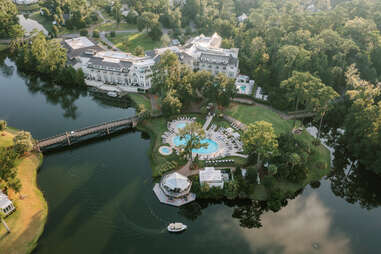 To Blakely, time alone is essential to become a better person. "Time alone makes us better parents, friends, coworkers, partners.. better humans!" reads her Instagram post. "And for those of you who tell me it's hard to prioritize yourself because you would feel so guilty. ..here it is! A guilt free (because you won it ;-) vacay!"
Entering the contest is very simple. You just have to follow Sara Blakely on Instagram, tag three friends you think deserve a solo vacation in the post's comments, and finally share the contest post in your story and tag Blakely. You have until 2:01 pm EST on March 27 to enter, and the winner will be selected at random and announced next Monday.
For more information on the contest, you can visit this website.