This New Lookout Tower Hotel Is a Stargazer's Dream Come True
The former fire lookout towers will take glamping to a whole new level—literally.
Image courtesy of MoonPass Lookouts
Image courtesy of MoonPass Lookouts
Stargazing from the back of your truck is definitely a memorable experience, but may we suggest taking that up a notch—and quite literally at that, too?
Kristie Wolfe, an Airbnb host behind a number of memorable stays (including the giant potato Airbnb), just announced the launch of her latest offering and this time it has to do with repurposed fire towers. Dubbed MoonPass Lookouts: An Elevated Forest Experience, the new unique stays will welcome guests inside the secluded forests of Wallace, Idaho, blessing them with the opportunity to stargaze from a truly unique vantage point.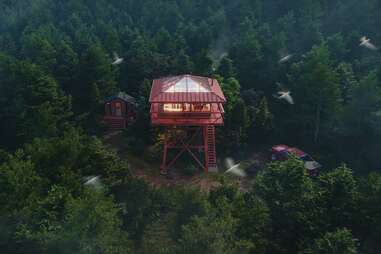 Forget about setting up a tent and looking to the sky, and think about climbing some stairs instead. Featuring five 30-foot-tall fire lookout towers converted into luxurious Airbnb-like properties, MoonPass Lookouts is spread out across 55 acres to grant every tower the level of peace and quiet it deserves.
Each tower is both a space enthusiast's and a nature fan's dream come true. Equipped with 360-degree windows as well as a smart glass roof—which will allow guests to filter sun rays during the day and prevent the tower from overheating—the towers will offer unparalleled views of the surrounding forest, and give guests the opportunity to stargaze surrounded by nature from the comfort of their own bed.
And it's not like the towers will be bare and simple, either. Each one of them will flaunt a fully-equipped kitchen, a comfy full bed, and even a wood-burning stove to keep you cozy and warm during the winter months. Of course, each tower come with a bathroom as well and, as an extra treat, there is also a private sauna to meet all your relaxation needs. And if you want to bring your fur-child along, you definitely can, since the hotel is fully pet-friendly.
The property will also feature a museum, which is central to the concept of the towers, too. During their stay, guests can access and visit the Fire Lookout Museum, which showcases the history and impact of the Great Fire of 1910 (also known as the "Big Burn") which tragically affected the area. To this day, the fire is still considered one of the largest forest fires in US history.
"I'm hoping the tower rentals will fund the Fire Lookout Museum," Wolfe said in a statement. "In doing so, we can create a space where folks can learn about our forests, fire history, and pick up some important fire safety tips."
In addition to learning about the site's history, guests will have a long list of activities to choose from when staying at MoonPass Lookouts, with every season featuring unique experiences. Guests looking to add some movement to their day can choose to participate in outdoor adventures such as fishing at the on-site pond, axe throwing, biking among nature, and taking part in hiking expeditions. During the winter, they even have the option to take a snowy ride in the property's snowcat and enjoy some hot chocolate as well.
For a limited time, MoonPass Lookouts is raising funds on Indiegogo—the crowdfunding platform—to help fund its development, and those donations will go toward a discounted future stay. The property is offering priority bookings based on both donation level and length of stay, but once the campaign ends, reservations will open up to all. According to Time Out, the property is slated to open to guests in spring 2024 (maybe even in time for the next total solar eclipse).
For more information and to book your early stay, you can visit the hotel's crowdfunding campaign page right here.