Morgan Freeman DGAF and Stuffs His Face with Cookies Onstage at the Oscars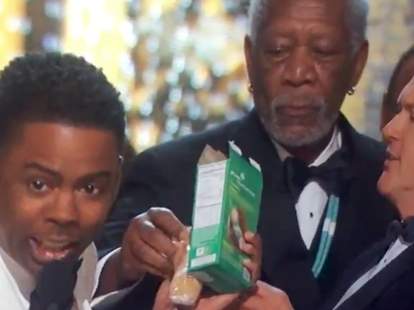 From Chris Rock's pointed monologue to Michael Keaton's "fuck yeah" face, last night's Oscars broadcast included numerous "outrageous" moments. But perhaps the greatest few seconds of the 3-hour+ show came toward the end, all thanks to Morgan Freeman and his sudden hankering for Trefoils/Shortbreads.
Moments after presenting the award for Best Picture to Spotlight, and just as Rock was hastily wrapping up the show, the legendary "voice of God" (and now, your turn-by-turn directions) actor spotted the host waving an open sleeve of the Girl Scout cookies and did not hesitate for a second before helping himself. Even while Rock was still talking, Freeman approached, reached behind a seemingly hesitant Keaton, and claimed a few of the delicious cookies for himself. And as seen in the clips below, the downright legend bit into a cookie and promptly walked offstage during the rest of the closing monologue, because he's freaking Morgan Freeman.
So while Freeman didn't take home one of those gold statues last night, he basically won the whole the damn show.
Sign up here for our daily Thrillist email, and get your fix of the best in food/drink/fun.
Tony Merevick is Cities News Editor at Thrillist and could go for some thin mints. Send news tips to news@thrillist.com and follow him on Twitter @tonymerevick.