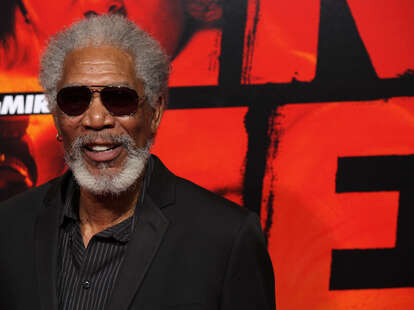 <a href="http://www.shutterstock.com/gallery-673594p1.html?cr=00&amp;pl=edit-00">DFree</a> / <a href="http://www.shutterstock.com/editorial?cr=00&amp;pl=edit-00">Shutterstock.com</a>
Morgan Freeman's deep, uniquely soothing voice has narrated everything from a political campaign ad to the magnificent march of a bunch of penguins across the perilous tundra of the South Pole, and now, his authoritative baritone can be the voice of your turn-by-turn directions during your otherwise monotonous daily commute. "Yield right in 200 feet" will never sound better.
As Gizmodo reports, the legendary actor has brought his equally legendary voice to Waze, a popular social navigation app, to help promote his new action movie, London Has Fallen. Freeman plays the role of Vice President of the United States in the new film -- the sequel to 2013's Olympus Has Fallen -- which hits theaters on March 4th. But in the meantime, Freeman's voice can help guide you through your own spectacular adventure... to the grocery store. After all, the dude has been known to be omniscient.
All you have to do is download the Waze app (if you don't already use it), and head to the settings section. Once you're there, hit where it says "Sound," then "Voice Language," then choose "Morgan Freeman" from the options, and you're all set. Now, if only Morgan Freeman could narrate your whole life...
Sign up here for our daily Thrillist email, and get your fix of the best in food/drink/fun.
Tony Merevick is Cities News Editor at Thrillist and wishes Morgan Freeman could narrate his commute on the subway. Send news tips to news@thrillist.com and follow him on Twitter @tonymerevick.