These Are the Most Affordable Big Cities in Every State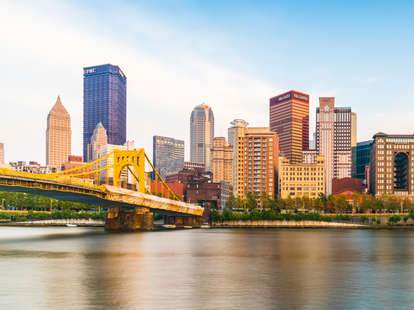 Pittsburgh

| Shutterstock
Pittsburgh

| Shutterstock
Certain cities have always been incredibly pricey, but the cost of living in places like New York, San Francisco, and Boston has become so ridiculous in recent years that lots of people have been desperately searching for more affordable alternatives. Fortunately, the options aren't slim, and they just got a whole lot easier to find, thanks to a new study that reveals the city in each state where your paycheck will stretch the furthest.
So, uh, what's up, Pittsburgh?
This latest roundup of the most relatively affordable places in every state was determined by the folks at personal finance site GOBankingRates.com, who considered a whole slew of census data including median household income, median gross rent, cost of living, and the median costs of homeownership to make their picks. It's also worth noting that they also only considered the three largest cities in a given state.
The study compared cities within a given state to come up with the list, but it also assigned each of the 50 cities that made the cut a final score in an effort to compare them all against each other. It turns out that your paycheck stretches furthest in Fort Wayne, Indiana, while places like Davenport, Iowa; Wichita, Kansas; and Green Bay, Wisconsin are all among the top 10 cities where your you can expect to make your money last. If you're curious which city in your state made the list, here's how the full lineup breaks down:
Alabama -- Montgomery
Alaska -- Anchorage
Arizona -- Tucson
Arkansas -- Fort Smith
California -- San Diego
Colorado -- Colorado Springs
Connecticut -- Bridgeport
Delaware -- Wilmington
Florida -- Jacksonville
Georgia -- Columbus
Hawaii -- Hilo
Idaho -- Nampa
Illinois -- Rockford
Indiana -- Fort Wayne
Iowa -- Davenport
Kansas -- Wichita
Kentucky -- Louisville
Louisiana -- Shreveport
Maine -- Lewiston
Maryland -- Baltimore
Massachusetts -- Springfield
Michigan -- Grand Rapids
Minnesota -- Rochester
Mississippi -- Jackson
Missouri -- Springfield
Montana -- Great Falls
Nebraska -- Lincoln
Nevada -- Las Vegas
New Hampshire -- Concord
New Jersey -- Newark
New Mexico -- Las Cruces
New York -- Buffalo
North Carolina -- Greensboro
North Dakota -- Bismarck
Ohio -- Cleveland
Oklahoma -- Norman
Oregon -- Salem
Pennsylvania -- Pittsburgh
Rhode Island -- Warwick
South Carolina -- Columbia
South Dakota -- Aberdeen
Tennessee -- Knoxville
Texas -- San Antonio
Utah -- West Valley City
Vermont -- Colchester
Virginia -- Norfolk
Washington -- Spokane
West Virginia -- Parkersburg
Wisconsin -- Green Bay
Wyoming -- Gillette
There are some other takeaways from the study worth noting, too. For instance, a number of the cities on the list have notably low median household incomes. In fact, 12 of them are under $40,000, which is significantly less than the national average of $55,000. The GOBankingRates.com team also found that the cost of living in a city correlates strongly to the median income level there. They discovered that of the 15 cities with a cost of living higher than the national average, nine of them are among the "richest" in the ranking. Alternately, the majority of the 10 cities with the lowest median incomes are also those where the cost of living is exceptionally low, and well below the national average.
Of course, you don't necessarily have to move to Davenport, Iowa or even stay in the States to get more bang for your buck. There are still lots of great places where you can actually afford to buy a house these days, and plenty of crazy-beautiful, dirt cheap places abroad practically begging you to relocate there.
Sign up here for our daily Thrillist email and subscribe here for our YouTube channel to get your fix of the best in food/drink/fun.