These Are the Most Affordable U.S. Wine Regions to Visit, According to New Data
HomeToGo just released the results of its study.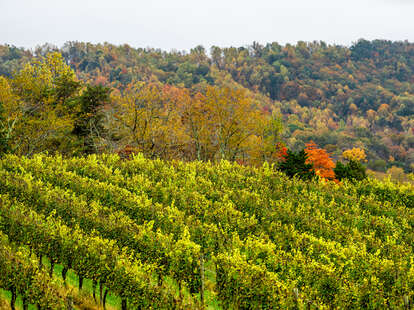 Monticello, Virginia

| krblokhin/iStock/Getty Images
Monticello, Virginia

| krblokhin/iStock/Getty Images
Wine tourism is on the rise and, unfortunately, what that means is that prices are, too. Yet, if you're a wine lover and know where to look, you don't necessarily have to break the bank to enjoy a well-deserved trip centered around the nectar of the gods.
Vacation rentals marketplace HomeToGo has come to the rescue of you and your wallet. In honor of National Drink Wine Day on February 18, it just unveiled its 2023 Wine Lovers Index, which features the top 25 US wine regions for budget-conscious travelers to explore.
To come up with the ranking, HomeToGo analyzed data from the Alcohol and Tobacco Tax and Trade Bureau, where it first gathered information about the number of American Viticultural Areas (AVAs) or grape-growing regions in each area. It then looked at the number of travel searches on HomeToGo.com for the different regions and shortlisted the most popular 25. Finally, it ranked them based on a combination of factors, including price of a top-rated bottle of wine from the region, the average price for a 1-2 hour tasting, and the median accommodation price per night.
Wine enthusiasts will have to pack their bags and head over to Shawnee Hills in Illinois for their cheapest wine vacation. The region is the first AVA in Illinois, and it is definitely a hidden gem. It flaunts nearly 20 wineries and 55 vineyards, and it even offers picturesque views to its visitors, including the Shawnee Hills Wine Trail, a 35-mile scenic drive in the Shawnee National Forest. There, the median accommodation price is $34.90 per night, and visitors can snag a really good bottle of wine for $27.33. In terms of wine tours, the average price is $12.50.
Pennsylvania's Lehigh Valley is your next best option if you're watching your finances. With a median accommodation price of $67.83, guests can find themselves less than an hour away from the iconic Poconos, and they'll be able to discover over 30 wineries, where the average price of wine tours is $12. The area is also famous for its five award-winning family-owned vineyards, which travelers can discover through the Lehigh Valley Wine Trail.
Heading south, the third spot on the list is Virginia's Middleburg AVA. There, visitors can taste a variety of delicious wines from over 30 wineries and vineyards, and they'll get the chance to explore the gorgeous scenery filled with wooded countryside. The region is famous for its red wine, and the average price of a good bottle is $30.33. In terms of stays, the median nightly price is $65.45, and tours cost $20.67 on average.
On the opposite end of the spectrum, as you may have guessed, is the most famous US wine destination of them all: Napa Valley.
Take a look at the complete list of top most affordable wine regions below:
1. Shawnee Hills, Illinois
2. Lehigh Valley, Pennsylvania
3. Middleburg Virginia, Virginia
4. Isle St. George, Ohio
5. Monticello, Virginia
6. Wisconsin Ledge, Wisconsin
7. Hudson River Region, New York
8. Southern Oregon, Oregon
9. Haw River Valley, North Carolina
10. Tualatin Hills, Oregon
11. Puget Sound, Washington
12. Cape May Peninsula, New Jersey
13. Chehalem Mountains, Oregon
14. Finger Lakes, New York
15. Verde Valley, Arizona
16. Fennville, Michigan
17. Texas Hill Country, Texas
18. Leelanau Peninsula, Michigan
19. Sonoita, Arizona
20. Lake Chelan, Washington
21. Northern Sonoma, California
22. Ulupalakua, Hawaii
23. Long Island, New York
24. Sonoma Valley, California
25. Napa Valley, California
For more information and to read the entire 2023 Wine Lovers Index, you can visit this website.