These Are the Most Educated Cities in America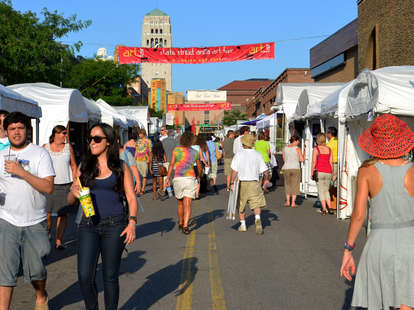 Ann Arbor, Michigan

| Shutterstock
Ann Arbor, Michigan

| Shutterstock
Every city and town can lay claim to at least one exceptional quality that distinguishes it from every other. Maybe it's being home to the widest Main Street in America, or the largest ball of twine in the world. But c'mon, not all superlatives are created equal, and some are downright bad (who wants to brag about living in the country's most dangerous city?) That said, there's plenty of reason to be pumped about living amongst some of the smartest folks in America, which makes this new map of the most educated cities in the country all the more compelling.
This new ranking of book-smart locales comes from the team at WalletHub, who compared 150 of the largest metropolitan areas in the US across 11 different metrics, narrowing in on data related to the educational attainment, quality of educations, and gaps in attainment. Specifically, they looked at things like the share of adults with diplomas, bachelor's degrees, and beyond, quality of the public school system, and number of summer learning opportunities per capita.
According to their findings, Ann Arbor, Michigan is the most educated city in America at the moment, followed by Washington, DC, and San Jose, California. On the other end of the spectrum, Visalia, California earned the distinction of least educated city, with Brownsville, Texas, and McAllen, Texas not far behind. If you want to know whether where you live made the cut on either end, you can take a peek at the full lineup here, or scope out the 20 most and least educated cities below.
Most Educated Cities in America
20. San Diego-Carlsbad, California
19. Portland-South Portland, Maine
18. Trenton, New Jersey
17. Minneapolis-St. Paul, Minnesota
16. Tallahassee, Florida
15. Portland, Oregon
14. Denver-Aurora-Lakewood, Colorado
13. Raleigh, North Carolina
12. Colorado Springs, Colorado
11. Provo-Orem, Utah
10. Bridgeport-Stamford-Norwalk, Connecticut
9. Seattle-Tacoma-Bellevue, Washington
8. Austin-Round Rock, Texas
7. Boston-Cambridge-Newton, Massachusetts
6. Madison, Wisconsin
5. San Francisco-Oakland-Hayward, California
4. Durham-Chapel Hill, North Carolina
3. San Jose-Sunnyvale-Santa Clara, California
2. Washington, DC
1. Ann Arbor, Michigan
Least Educated Cities in America
20. Lancaster, Pennsylvania
19. Youngstown, Ohio
18. Reading, Pennsylvania
17. Huntington, West Virginia
16. Lakeland-Winter Haven Florida
15. Lafayette, Louisiana
14. Riverside-San Bernardino-Ontario, California
13. El Paso, Texas
12. Beaumont-Port Arthur, Texas
11. Corpus Christi, Texas
10. Ocala, Florida
9. Fresno, Calicornia
8. Stockton-Lodi, California
7. Salinas, California
6. Hickory-Lenoir-Morgantown, North Carolina
5. Modesto, California
4. Bakersfield, California
3. McAllen-Edinburg-Mission, Texas
2. Brownsville-Harlingen, Texas
1. Visalia-Porterville, California
Besides the ranking, the WalletHub team also provided some interesting insights into how individual statistics related to education compare around the US. For example, it found that the largest gender gap in education (favoring women) is in Anchorage, Alaska, while in men's favor it's largest in Naples, Florida. Also, the city with the highest average university quality is Santa Barbara, California, and the city with the lowest average university quality is Modesto, California.
Of course, while living in a city with a bunch of smarties may make you feel better about your surroundings, it doesn't necessarily mean it's the place the be if you're on the hunt great job. If that's what you're looking for, you have lots of options.
Sign up here for our daily Thrillist email and subscribe here for our YouTube channel to get your fix of the best in food/drink/fun.