Here's Where Food and Booze Are the Cheapest In Europe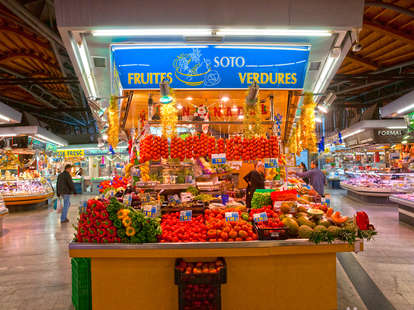 If you've had a $16 generic beer in an Oslo dive, you know that food and drink prices vary wildly across Europe. That's the kind of information that's worth knowing well in advance of your trip. Thankfully, Eurostat has compiled the exact information you're looking for.
The statistical office of the European Union has taken a survey of 440 comparable foods across Europe to create an index of food, beverage, and tobacco prices categorized by nation. Their data concludes that Switzerland has Europe's most expensive food and drinks. They're followed closely by Norway, Denmark, and Iceland.
At the opposite end, Poland is the continent's cheapest country. They're at the bottom of the list with Romania, Albania, and Serbia.
Broken down by categories, Bulgaria isn't a bad spot for vice, with alcohol coming in 36 percent below the E.U. average. Their tobacco is 50 percent cheaper than average, while it's at its highest in the Norway and the U.K. at 120 and 119 percent above average, respectively. Norway is also the most expensive hub for alcoholic beverages, with drinks costing 250 percent above average.
Their data also breaks down by food type, revealing that bread, cereals, meat, and fish are at their most expensive in Denmark. Milk, cheese, and eggs are the priciest in Cyprus. At the opposite end, Romania has the cheapest bread and cereals, Albania has the cheapest meat, and Poland has the continent's cheapest milk. That's more interesting than useful unless you drink a lot of milk when you're on vacation.
Above, take a look at Eurostat's complete ranking of European nations.
h/t Indy 100
Sign up here for our daily Thrillist email, and get your fix of the best in food/drink/fun.
Dustin Nelson is a News Writer with Thrillist. He holds a Guinness World Record but has never met the fingernail lady. He's written for Sports Illustrated, Rolling Stone, Men's Journal, The Rumpus, and other digital wonderlands. Follow him @dlukenelson.