These Are the Cheapest & Most Expensive Airports in America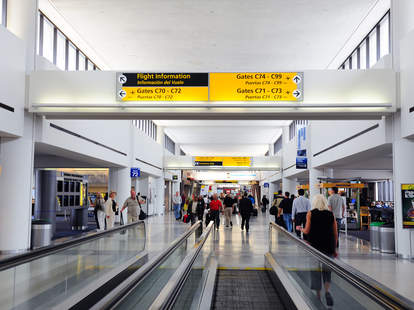 Don't get me wrong, I love New York. But I also love complaining about egregious rent prices, sidewalks full of slow walkers, and the trash-littered streets. It keeps me sane. And now, I have yet another gripe to add to my growing list: JFK, LaGuardia, and Newark were named among the country's top five priciest airports. Cool. 
And while, I should've known, they're also not the only airports bleeding us dry. The Points Guy rounded up the most and least expensive US travel hubs based on average domestic fares, baggage and cart rentals, parking fees, related Uber fees, and other miscellaneous expenses. So who made the cut? 
Here are the most expensive airports:  
1. Newark Liberty International Airport 
2. John F. Kennedy International Airport 
3. Dulles International Airport
4. San Francisco International Airport
5. LaGuardia Airport
6. Salt Lake City International 
7. George Bush Intercontinental Airport 
8. Philadelphia International Airport 
9. Charlotte Douglas International Airport 
10. Minneapolis-Saint Paul International Airport
Here are the least expensive airports:  
1. McCarran International Airport
2. Orlando International Airport
3. Fort Lauderdale-Hollywood International Airport
4. Norman Y. Mineta San Jose International Airport
5. Oakland International Airport
6. Dallas Love Field Airport
7. Baltimore/Washington International Thurgood Marshall Airport
8. Tampa International Airport
9. Miami International Airport
10. Louis Armstrong New Orleans International Airport
Even if you spend all your time scouring the web for cheap airfares, that won't always translate to a cheap overall experience. 
"Travelers may not go out of their way just to enjoy a less expensive cup of coffee, but it's important to remember that the cheapest flights may not be worth it if you find yourself relying on a luggage cart to get to the check-in counter, or if you plan on taking an Uber or Lyft to the nearest city center," the report said. "And airports that do more to make the travel experience a pleasant one (think: lounges) often come out ahead." 
h/t The Points Guy
Sign up here for our daily Thrillist email and subscribe here for our YouTube channel to get your fix of the best in food/drink/fun.
Megan Schaltegger is a staff writer at Thrillist. Follow her @MegSchaltegger.