America's Most Expensive Home Is Going on Sale for $295 Million
The house has a wine cellar large enough to fit 10,000 bottles, a 30-car garage, and six elevators.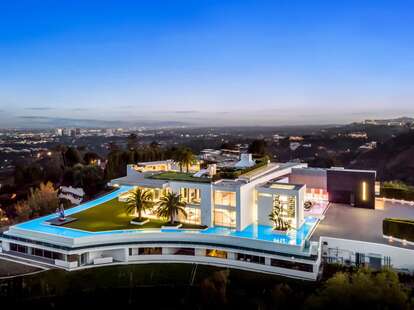 Courtesy of Concierge Auctions
Courtesy of Concierge Auctions
The cost of living has gone up for everyone in the US. But rent hikes and a seller's market are small potatoes compared to the behemoth of a home going up for sale next month. The One Bel Air is a Beverly Hills mansion that will be auctioned off by Concierge Auctions in February, with a starting price of $295 million.
The mansion is 105,000 square feet, sits on 3.8 acres of land, and has 21 bedrooms, 42 full bathrooms, and 7 half bathrooms. It also features a two-story library, a nightclub, five pools, a spa, a 10,000-square-foot sky deck, a jogging track, gym, bowling alley, tennis court, juice bar, 40-seat movie theater, hair and beauty salon, a guest home, staff quarters, a 30-car garage, six elevators, and a 10,000-bottle wine cellar. Basically, the home is a small town and you'll never have to leave it. In fact, it is considered to be the world's largest private residence, per Architectural Digest.
The company that built this gigantic property, Crestlloyd, filed for bankruptcy last month. According to the company, the $295 million sticker price is actually quite a deal. Crestlloyd claims the home is worth at least $325 million, and originally put it on the market for $500 million dollars.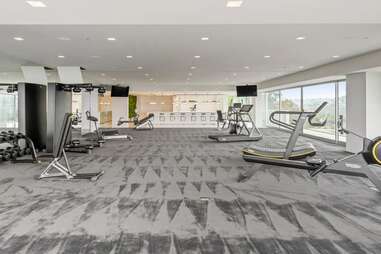 It is hard to believe that there is a market for a house so pricey and large, but who knows. The auction house is asking for a $250,000 deposit just to enter a bid.
See more photos of The One Bel Air as well as a video tour on the Concierge Auctions website.