These Are the Most Instagrammed Places in the World
Sharing pics of whatever you're doing is so commonplace it feels mandatory. Instagram is littered with both dull minutiae and jealousy-inducing travel porn that makes you wish you were anywhere but at work.
All that humblebragging raises the question: What's the most Instagrammed place on Earth? What's the trip that people can't stop themselves from telling everyone about? On The Go Tours sifted data from the photo-sharing site to create "The Wonders of the World According to Instagram," a list of the most 'grammed places on earth. (There's an interactive map at that link.)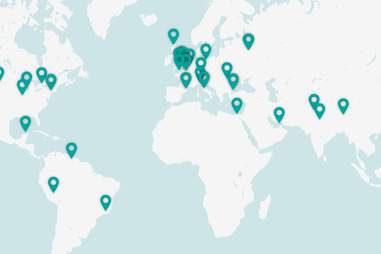 Screengrab On the Go
It's an interesting list, and many of the locations shouldn't be surprising to anyone who has spent even the slightest amount of time on Instagram.
It's fun and probably accurate. However, it's impossible to get an official "most Instagrammed locations" list. To create this list, On the Go took the most popular hashtag for the world's most visited locations and figured out which hashtags were used most frequently. That's a pretty sound way to build this list, but it's not totally scientific. Off the bat, it only uses a single hashtag. That means it counts a use of #EiffelTower or #TowerBridge, but not #EiffelTowerParis or #TowerBridgeLondon (or the numerous ways travelers misspell Eiffel). It also can't count shared photos that skip hashtags altogether.
Nonetheless, here's a look at the top 25 and the site's associated hashtag.
1. Eiffel Tower, Paris. #EiffelTower
2. Big Ben, London. #BigBen
3. Grand Canyon, Arizona. #GrandCanyon
4. London Eye, London. #LondonEye
5. Empire State Building, New York City. #EmpireStateBuilding
6. Golden Gate Bridge, San Francisco. #GoldenGateBridge 
7. Tower Bridge, London. #TowerBridge 
8. Statue of Liberty, New York City. #StatueOfLiberty 
9. Sagrada Familia, Barcelona. #SagradaFamilia
10. Colosseum, Rome. #Colosseum
11. CN Tower, Toronto. #CNTower
12. Machu Picchu, Peru. #MachuPiccu
13. Burj Al Arab, Dubai. #BurjAlArab
14. Taj Mahal, Agra. #TajMahal
15. Buckingham Palace, London. #BuckinghamPalace
16. Arc de Triomphe, Paris. #ArcDeTriomphe
17. Sydney Opera House, Sydney. #SydneyOperaHouse
18. Sacre-Coeur, Paris. #SacreCoeur
19. Stonehenge, Englad. #Stonehenge
20. Chichen Itza, Yucatíçn Peninsula, Mexico. #Chichenitza
21. Hollywood sign, Los Angles. #HollywoodSign
22. Great Wall of China, Beijing. #GreatWall
23. Willis Tower, Chicago. #WillisTower
24. Trevi Fountain, Rome. #TreviFountain
25. Golden Temple, Amritsar, Punjab, India. #GoldenTemple
See the full top 50 list here and check out this list of the most Instagrammed places in every U.S. State.
Dustin Nelson is a News Writer with Thrillist. He holds a Guinness World Record but has never met the fingernail lady. Follow him @dlukenelson.