Alcohol and football go together like Keenan and Kel: while it is technically possible to have one without the other -- in the end, do we even really want that?
If you've ever been in the vicinity of anyone watching and/or preparing to watch an NFL game, you know the beer flows like the rivers of urine in the parking lot of Giants stadium after a night game (which is to say, there's lots of it). But what NFL fanbase has the distinct privilege of being the most intoxicated in all the land? The answer may surprise you!
Or not, if you've ever been to Buffalo.  
Recommended Video
This Vegan Pizzeria in Miami Makes the Most Out of the Box Pies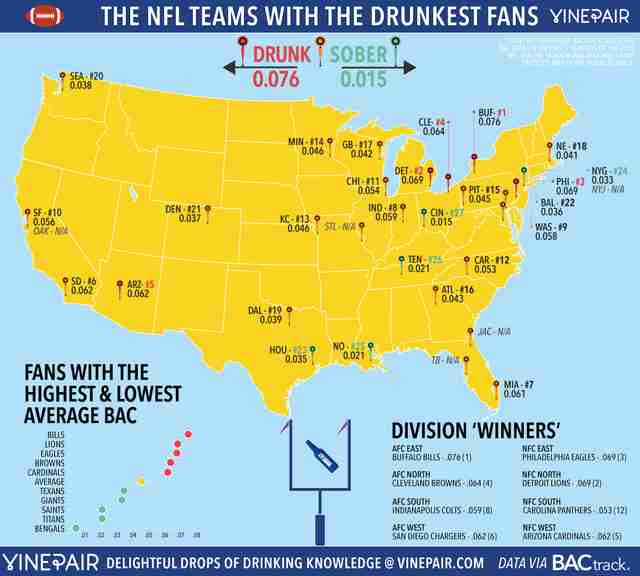 VinePair and BACtrac -- makers of personal, smartphone-linked breathalyzers (yes, seriously) -- compiled the data based off their own findings/users. Notably, the top five teams have exactly zero Super Bowl victories. Coincidence? No, probably not. 
 
5. Arizona Cardinals - .062 BAC
Pretty sure the presented data is based on this dude alone.
 
4. Cleveland Browns - .064 BAC
If you were a Browns fan, or even just lived in Cleveland, you'd be drinking right now, too. 
 
3. Philadelphia Eagles - .069 BAC
Remember, these are the fans that nearly killed Santa and cheer when opposing players get hurt. At least they have an excuse for being mean. I guess.
 
2. Detroit Lions - .069 BAC
See: Browns, Cleveland.
 
1. Buffalo Bills - .076 BAC
It's cold. The team sucks. You lost four straight Superbowls. Rex Ryan is your coach. Look, if you want to drink copiously, go ahead -- if anyone deserves it, it's Bills fans. 

Wil Fulton is a Staff Writer for Thrillist. He's proud the Giants made this list, in a weird way. And also the rich. Follow him @wilfulton
Sign up here for our daily Thrillist email, and get your fix of the best in food/drink/fun.