These Are the Most and Least Pet-Friendly Cities in the United States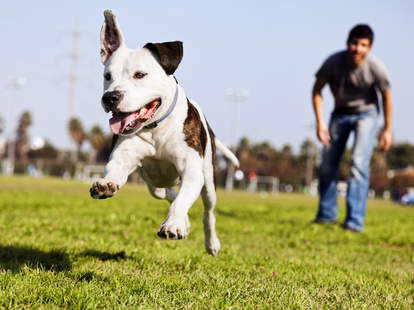 Living in a pet-friendly city is important for America's 85 million pet owners. You want to take your good dog for a beer and let your chinchilla join you on a late-night stroll. (You do not want to run afoul of chinchilla leash laws.)
WalletHub has compiled data on the 100 largest cities in the United States to determine which cities are the most and least accommodating for furry friends. The ranking is based on 21 metrics about pet-related amenities, including the cost of vet care, dog insurance, and availability of vets, as well as the number of shelters, dog parks, and pet-friendly restaurants in each city. 
Hanging out at the top of the list are a lot of southern cities. At the other end, the northeast really needs to get its act together. Come on. These are the top 10 pet-friendly cities in the States.
1. Scottsdale, Arizona
2. Phoenix, Arizona
3. Tampa, Florida
4. San Diego, California
5. Orlando, Florida
6. Birmingham, Alabama
7. Austin, Texas
8. Cincinnati, Ohio
9. Atlanta, Georgia
10. Las Vegas, Nevada
And here are the cities that deserve a thwap on the nose with a rolled up newspaper.
1. Newark, New Jersey
2. Baltimore, Maryland
3. Honolulu, Hawaii
4. New York, New York
5. Boston, Massachusetts
6. Santa Ana, California
7. Buffalo, New York
8. Philadelphia, Pennsylvania
9. Anchorage, Alaska
10. Charlotte, North Carolina
The study, which appears to largely focus on dogs, has made some of the individual category rankings available, showing the nation's lowest veterinary costs are found in Columbus, Ohio. Meanwhile, the nation's capital and New York City have the most expensive care.
There is even a little redemption to be had for cities at the bottom of the overall ranking. Honolulu is tied for the most pet-friendly restaurants per capita with Orlando, Atlanta, and Scottsdale. New Yorkers will also find a silver lining. Their city is tied for the most dog parks per capita with San Francisco, Portland, Las Vegas, Henderson, and Boise.
Don't feel bad if your city is a cellar-dweller. It doesn't mean you're a bad pet parent. Though, you probably would be if you let this guy petsit for you. 
Sign up here for our daily Thrillist email, and get your fix of the best in food/drink/fun.
Dustin Nelson is a News Writer with Thrillist. He holds a Guinness World Record but has never met the fingernail lady. Follow him @dlukenelson.