Every year the U.S. Social Security Administration releases name data for the previous year, revealing the most popular baby names in the nation, as well as the names that have undergone the biggest changes in popularity. 
Topping the list for 2016 are Noah and Emma, the same two that have been on top for the last three years.
Here's a look at the top 10 for boys and girls. 
Recommended Video
Thrillist's Best (and the Rest): Traveling With a Partner vs. Traveling in a Big Group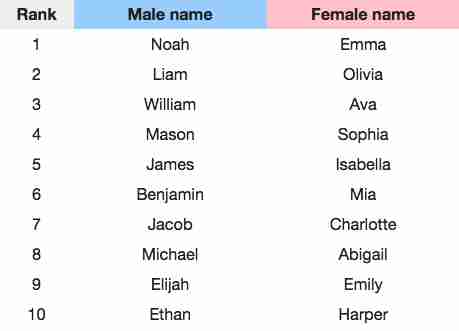 The annual report also tracks shifts in popularity year over year. The portion of the report frequently reveals the strange ways pop culture influences the names of a generation.
For instance, in recent years, there has been a significant jump in the number of kids named Khaleesi, after Daenerys Targaryen on Game of Thrones. That's a trend that continues still. Khalessi saw a 56 percent growth in 2016. In 2015, Khaleesi was the 821st most popular name for girls. In 2016, it jumped up to 765th. 
On the boy's side, the name that had the biggest popularity spike was Kylo. It saw a growth of 2,368 percent, moving from being the 3,269th most popular name in 2015 to the 901st this year. The rise is undoubtedly tied to Adam Driver's Kylo Ren character in Star Wars: The Force Awakens, released in December of 2015.
The name is a strange choice because Kylo Ren ...ahem... didn't have a great relationship with his parents.
This isn't the first time Star Wars had an impact on the popularity of a name. Anakin remains a very popular name in spite of how strange it is to name your kid after Darth Vader. In 2016, Anakin was the 701st most popular boy's name, the highest it has ever been.
Here's a look at the names that had the biggest increase in popularity last year.
Notable among names exhibiting a decrease in popularity is how far Caitlin has fallen. In fact, the four female names atop the list are Caitlin, Caitlyn, Katelynn, and Kaitlynn. Maxwell Strachan at the Huffington Post attributes the broad decline in the name's popularity to transphobia following Caitlyn Jenner coming out as transgender in 2015.
Here are the names that saw the biggest drops in popularity last year.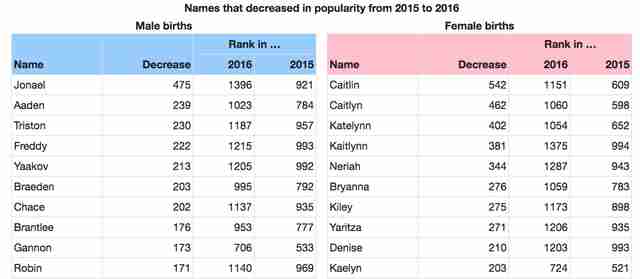 Dig deeper into the most popular baby names by year, decade, and location here.
Sign up here for our daily Thrillist email, and get your fix of the best in food/drink/fun.