This Map Shows the Most Popular Christmas Movie in Every State
The holidays are for tradition. So in addition to telling children that a fictive, sleigh-riding fat man is gliding across the country and delivering presents via chimney chutes, you're likely watching Christmas movies this time of year.
Unsurprisingly, people research Christmas films before watching them. To illustrate our national obsession with pint-sized Macaulay Culkin 27 years after the release of Home Alone, Google released a map of the most popular Christmas movie in every state based on search data.
The tech giant seems to think there are only five Christmas movies in the long and storied history of Christmas movies. That is a falsehood. But since the holidays are often the culmination of a long procession of letdowns, Google gave us The Polar Express, Elf, National Lampoon's Christmas Vacation, a Christmas Story, and Love Actually to work with.
Here's the landscape of Christmas film-snobbery (click or tap the map to enlarge):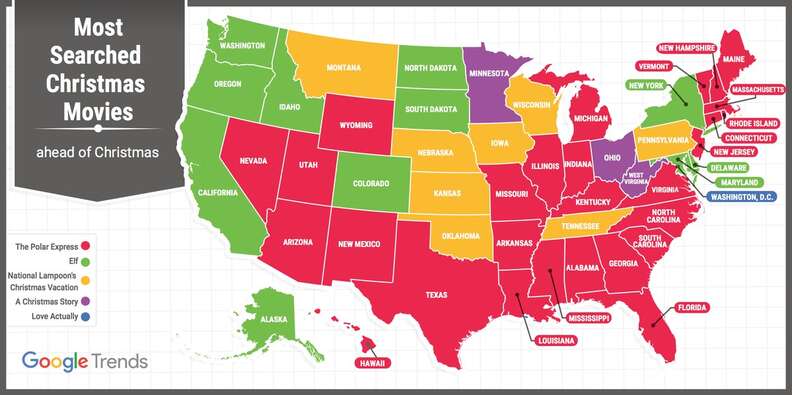 The only secret stoner film masquerading as a holiday classic, Elf, was the first choice on the west coast and basically everywhere marijuana is decriminalized. But it was also big in the Dakotas, Maryland, Delaware, and Alaksa -- which is kind of like the North Pole, only with more grizzly bears and shotguns.
The Griswolds of National Lampoon's Christmas Vacation were a favorite in Nebraska, Kansas, Oklahoma, Tennessee, and Pennsylvania. A Christmas Story, with its 1950's storyline and cautionary tales about licking frost, won out in Ohio, West Virginia, and Minnesota. Hugh Grant fans will probably despair over Love Actually only winning among the cosmopolitan snobs of Washington, DC, but the rest of America agrees.
Far and away the biggest winner was The Polar Express, which won in 26 states.
Sign up here for our daily Thrillist email and subscribe here for our YouTube channel to get your fix of the best in food/drink/fun.

Sam Blum is a News Staff Writer for Thrillist. He's also a martial arts and music nerd who appreciates a fine sandwich and cute dogs. Find his clips in The Guardian, Rolling Stone, The A.V. Club and Esquire. He's on Twitter @Blumnessmonster.