These Are the Most Popular Dog Names of 2018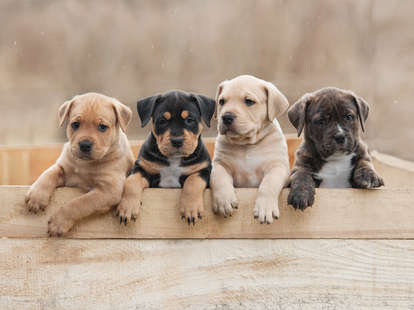 Dogs, for reference.

| Shutterstock
Dogs, for reference.

| Shutterstock
Dogs are like people. But they are not people. This, you see, is why it's so great when there are dogs in offices. And why it's so funny to give them names traditionally assigned to humans. Because they are not people. They are dogs. Get it?
Now that we've established that, here are the most popular dog names of 2018. Whether you're looking for inspiration for puppy names or are just looking to judge people for really played out picks (who names a dog "Chopper"?), this will be of interest. The list and data come via Rover.com, which is "the world's largest network of pet sitters and dog walkers." Someday, the report will come with a parade of all these freshly named dogs, but that's not this year. We suggest writing your congressperson about that.
"Nine out of 10 pet parents consider their dogs full-fledged members of the family. They're not just pets, but part of the family we choose," said Halle Hutchison, vice president of marketing for Rover. "Our dogs and what we choose to call them is part of our self-expression, which is why people name their pets after the things they love and admire, from pop culture icons to superheroes."
So here are the top names, along with an outline of general trends below.
The Top 10 Male Dog Names
10. Oliver
9. Tucker
8. Bear
7. Duke
6. Rocky
5. Jack
4. Buddy
3. Chopper
2. Charlie
1. Max
The Top 10 Female Dog Names
10. Stella
9. Maggie
8. Bailey
7. Molly
6. Sadie
5. Lola
4. Daisy
3. Luna
2. Lucy
1. Bella
While the names may not have shown up on this list, Rover points out that 16% of dog names this year were pop-culture references. The name Cardi (as in her highness Cardi B), rose a staggering 1,000%; Nakia, a reference to Black Panther, saw a 560% increase; and Gambino (as in Childish Gambino) saw a 190% increase.
Thirty-three percent of pets receive their names from characters in TV shows, books, movies, and video games, according to a survey by the website. On the other hand, 36% of dogs received traditional human names, which we feel is a classier, more understated option.
And even the Royal Family even got some love, with the name Harry up 133% and Meghan up 129%. Is that irreverent? Or honorable? You decide.
Sign up here for our daily Thrillist email and subscribe here for our YouTube channel to get your fix of the best in food/drink/fun.