These Are the Most Popular Entry-Level Jobs Right Now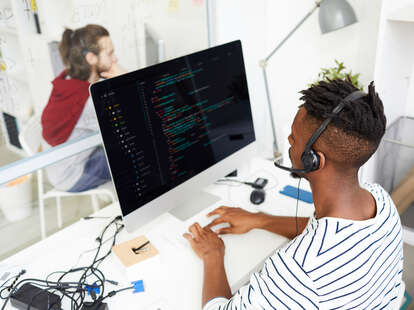 Navigating the job market right after college can be incredibly overwhelming, especially when you're not at all certain what sort of career you want. Sometimes all it takes is the promise of a seemingly decent salary to get you excited and on track. But what sort of gigs are recent grads and other newbies to the job market most interested in these days?
To find out, the folks at Indeed crunched some numbers and determined the most popular entry-level jobs at the moment.
The new list of popular gigs among people first entering the workforce was compiled by the analytics team at Indeed, and culled by looking at how many entry-level job-seekers (e.g., those with one to five years experience) clicked on a given job title on their site between February and June of this year, compared to how many non-entry job seekers also clicked on that position during the same time fram. Then, they ranked them to find the 15 most popular for 2018.
At the top of the list right now by a fairly wide margin is Junior Mechanical Engineer, followed by Junior Java Developer and Computer Aided Engineer (CAE). Here's what other jobs made the cut, along with their average annual salary.
15. Manufacturing Engineer -- $73,726
14. Junior Software Engineer -- $56,116
13. Media Planner -- $51,449
12. Junior Credit Analyst -- $45,574
11. Powertrain Engineer -- $93,120
10. Junior Data Analyst -- $53,476
9. Entry Level Electrical Engineer -- $58,623
8. Exercise Physiologist -- $41,837
7. Junior Marketing Associate -- $42,185
6. Junior Publicist -- $33,713
5. Junior Product Designer -- $57,234
4. Industrial Engineer -- $71,619
3. CAE Engineer -- $87,973
2. Junior Java Developer -- $70,193
1. Junior Mechanical Engineer -- $57,822
As you can see, nine of the 15 jobs on the list are technical in some degree or another, both in the traditional sense and in more computer-related capacities. Beyond that there are a few gigs in the media field that made the cut, and just one in healthcare. If you're curious, Indeed offers a more in-depth perspective reflecting on why these jobs are among the most popular right now.
Obviously, most of the jobs on this list require at least some expertise or special skillset to even remotely be considered a good candidate. But then again, these days it doesn't take much expertise at all to land what could potentially be a dream job, especially if you love cats, or gin.
Sign up here for our daily Thrillist email and subscribe here for our YouTube channel to get your fix of the best in food/drink/fun.