Here Are the Most Popular Recipes in Every State
From icon food innovations like Minnesota's Juicy Lucy to oft-misunderstood local favorites like Mississippi's Koolickle, the unique foods found in every state can reveal a lot about its people. Perhaps even more interesting, though, is what make-at-home dish each state likes to cook for dinner. A new map shines light on exactly that by revealing the most-Googled recipes in every state.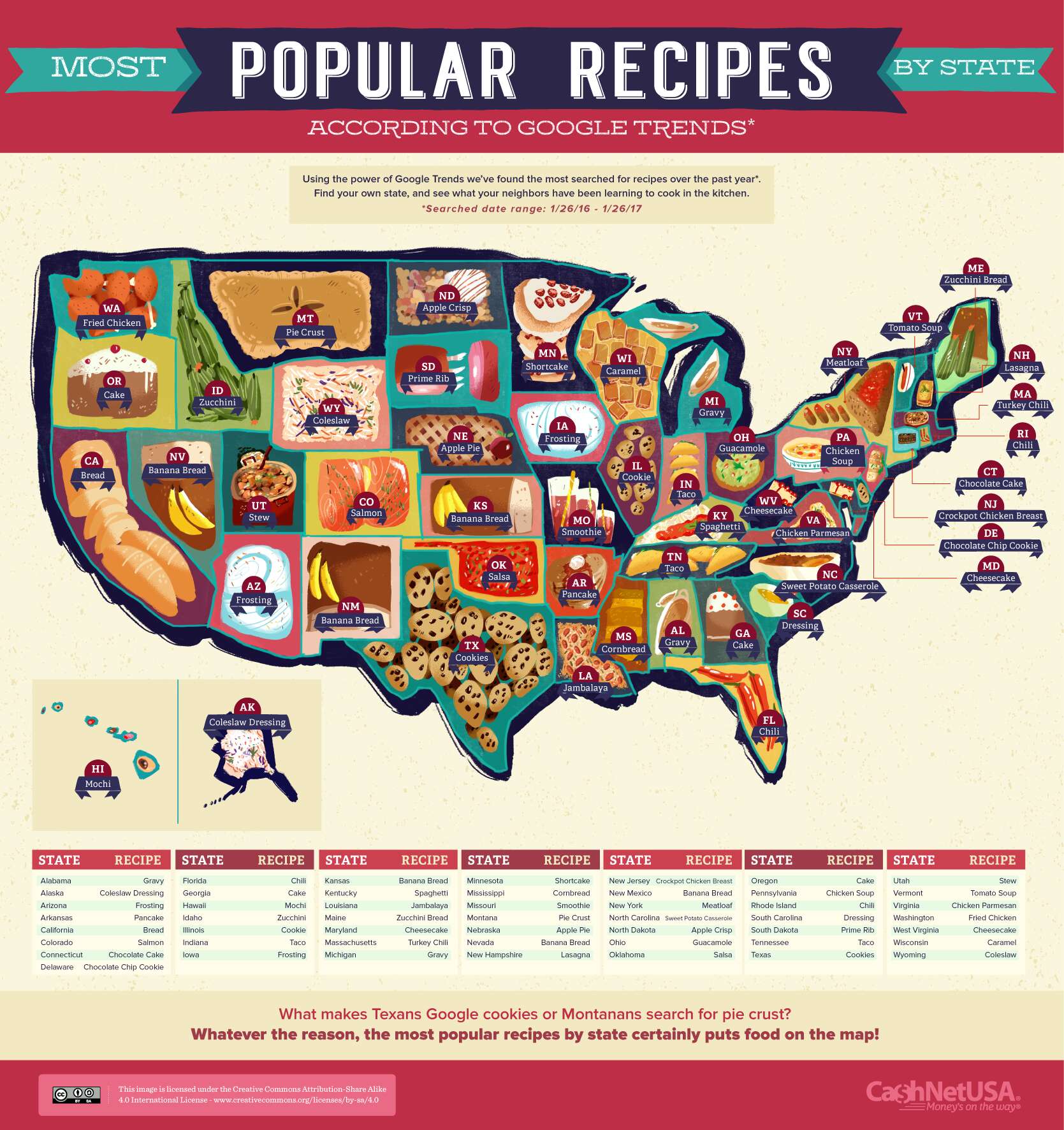 The data, which was gathered via Google Trends over the course of a year, was assembled into this slick visualization by the team at CashNet USA. And while a handful of states' most-frequently searched-for recipes are similar (why's everyone trying to make banana bread and coleslaw?), most states boast a unique query. The findings don't necessarily reflect the collective culinary skillset of a given state, but they do provide some insight into those who could perhaps benefit from a statewide Home Ec course (Zucchini?! Really, Idaho?) Here's how it all breaks down:
Alabama -- Gravy
Alaska -- Coleslaw Dressing
Arizona -- Frosting
Arkansas -- Pancake
California -- Bread
Colorado -- Salmon
Connecticut -- Chocolate Cake
Delaware -- Chocolate Chip Cookie
Florida -- Chili
Georgia -- Cake
Hawaii -- Mochi
Idaho -- Zucchini
Illinois -- Cookie
Indiana -- Taco
Iowa -- Frosting
Kansas -- Banana Bread
Kentucky -- Spaghetti
Louisiana -- Jambalaya
Maine -- Zucchini Bread
Maryland -- Cheesecake
Massachusetts -- Turkey Chili
Michigan -- Gravy
Minnesota -- Shortcake
Mississippi -- Cornbread
Missouri -- Smoothie
Montana -- Pie Crust
Nebraska -- Apple Pie
Nevada -- Banana Bread
New Hampshire -- Lasagna
New Jersey -- Crockpot Chicken Breast
New Mexico -- Banana Bread
New York -- Meatloaf
North Carolina -- Sweet Potato Casserole
North Dakota -- Apple Crisp
Ohio -- Guacamole
Oklahoma -- Salsa
Oregon -- Cake
Pennsylvania -- Chicken Soup
Rhode Island -- Chili
South Carolina -- Dressing
South Dakota -- Prime Rib
Tennessee -- Taco
Texas -- Cookies
Utah -- Stew
Vermont -- Tomato Soup
Virginia -- Chicken Parmesan
Washington -- Fried Chicken
West Virginia -- Cheesecake
Wisconsin -- Caramel
Wyoming -- Coleslaw
Sign up here for our daily Thrillist email and subscribe here for our YouTube channel to get your fix of the best in food/drink/fun.