This Map Shows the Most Popular Super Bowl Foods in Every State
Even if your Super Bowl party is packed with superfans of both teams, there's at least one thing that can unite the whole room (and no, it's not Justin Timberlake). We're, of course, referring to the food. A perfect snack lineup can work wonders to help keep the peace.
And while most people have their own go-to game day grub, it turns out that the sort of Super Bowl spread you'll be feasting on this Sunday may have a lot to do with the part of the country you're in. That's at least according to a new map that identifies each state's favorite finger food (or dip, casserole, and otherwise delicious Super Bowl party-appropriate comfort food).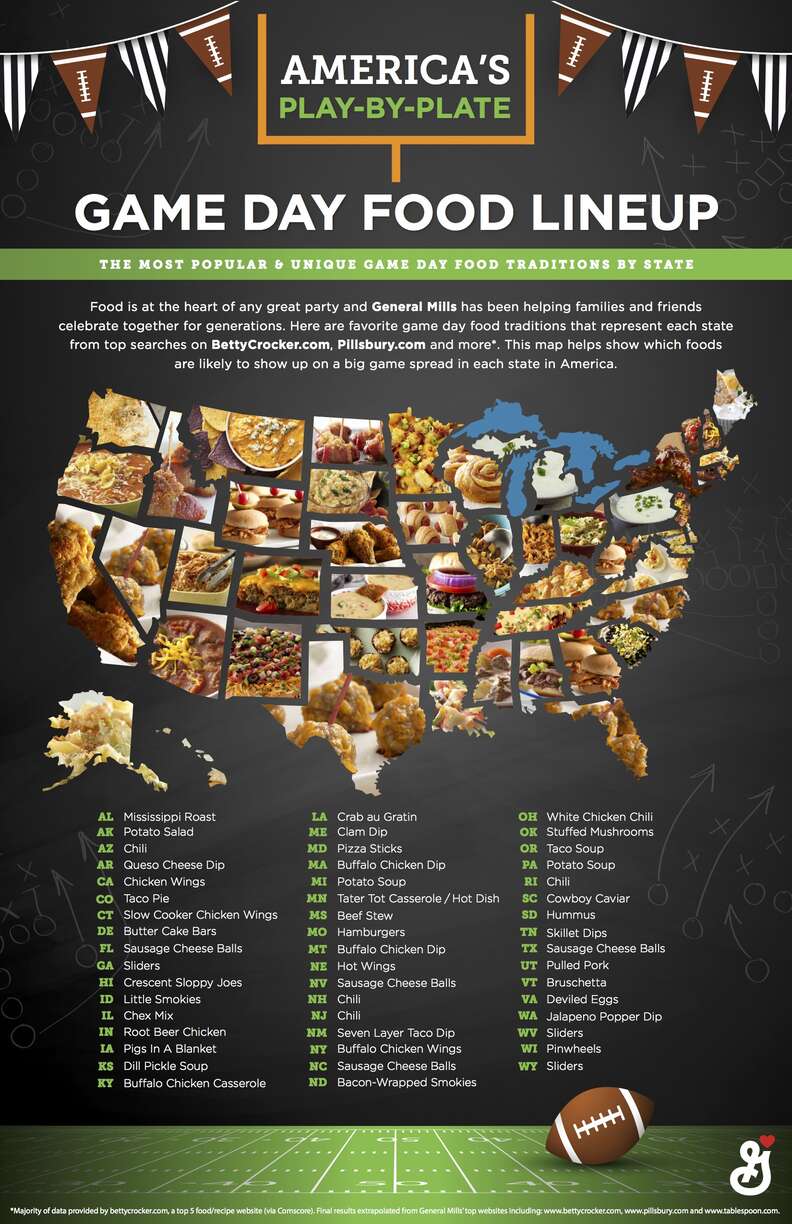 This revealing look at our regional faves was created by a research team at General Mills, who compiled a bunch of recipe search data from popular sites like BettyCrocker.com, Pillsbury.com, and Tablespoon.com. Specifically, they looked into both the most popular and unique search trends by state.
Many of the favorite dishes that make an appearance are generally popular cold weather fare and may not be that surprising, but there are quite a few that stand out among the rest (looking at you, Vermont). To find out what made the cut in your state, check out the full findings below:
Alabama -- Mississippi Roast
Alaska -- Potato Salad
Arizona -- Chili
Arkansas -- Queso Cheese Dip
California -- Chicken Wings
Colorado -- Taco Pie
Connecticut -- Slow Cooker Chicken Wings
Delaware -- Butter Cake Bars
Florida -- Sausage Cheese Balls
Georgia -- Sliders
Hawaii -- Crescent Sloppy Joes
Idaho -- Little Smokies
Illinois -- Chex Mix
Indiana -- Root Beer Chicken
Iowa -- Pigs In A Blanket
Kansas -- Dill Pickle Soup
Kentucky -- Buffalo Chicken Casserole
Lousiana -- Crab au Gratin
Maine -- Clam Dip
Maryland -- Pizza Sticks
Massachusetts -- Buffalo Chicken Dip
Michigan -- Potato Soup
Minnesota -- Tater Tot Casserole/Hot Dish
Mississippi -- Beef Stew
Missouri -- Hamburgers
Montana -- Buffalo Chicken Dip
Nebraska -- Hot Wings
Nevada -- Sausage Cheese Balls
New Hampshire -- Chili
New Jersey -- Chili
New Mexico -- Seven Layer Taco Dip
New York -- Buffalo Chicken Wings
North Carolina -- Sausage Cheese Balls
North Dakota -- Bacon-Wrapped Smokies
Ohio -- White Chicken Chili
Oklahoma -- Stuffed Mushrooms
Oregon -- Taco Soup
Pennsylvania -- Potato Soup
Rhode Island -- Chili
South Carolina -- Cowboy Caviar
South Dakota -- Hummus
Tennessee -- Skillet Dips
Texas -- Sausage Cheese Balls
Utah -- Pulled Pork
Vermont -- Bruschetta
Virginia -- Deviled Eggs
Washington -- Jalapeno Popper Dip
West Virginia -- Sliders
Wisconsin -- Pinwheels
Wyoming -- Sliders
Sign up here for our daily Thrillist email and subscribe here for our YouTube channel to get your fix of the best in food/drink/fun.